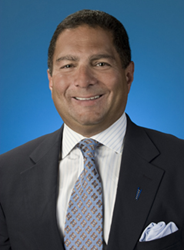 "We are confident that Joe Essa will have an immediate positive impact on Froozer®" -- Froozer® Chairman of the Board and Co-Founder of Hague Enterprises, Des Hague.
Denver, CO (PRWEB) May 19, 2016
Des Hague, Froozer® Chairman of the Board, and Rich Naha, Froozer® CEO, announced today that Joseph C. Essa, President of Wolfgang Puck Worldwide, has been appointed to the Board of Directors, effective immediately.
"We are delighted to have Joe join our Board of Directors," stated Hague, "and we are confident that Joe will have an immediate positive impact on Froozer®. He will be able to share best practices in navigating our retail channels, accelerating key introductions in the military channel, expanding our broker network in numerous channels and helping us refine our overall position in the market."
As President of Wolfgang Puck Worldwide, Essa's responsibilities include building and leading an executive team as well as the related strategic plan and systems for this successful casual restaurant and consumer product business with annual retail revenues of $250 million.
Prior to joining the Wolfgang Puck Fine Dining Group, Essa worked with restaurateur Pino Luongo in New York City as Vice President of Operations at TOSCORP, Inc., which includes the restaurant concepts Coco Pazzo, Le Madri and Tuscan Square. He also founded and operated two successful restaurants, Assaggio in West Hartford, Connecticut and Café Pasta in Greensboro, North Carolina.
Essa graduated cum laude from Boston College with a bachelor of science in accounting and finance. He is a Certified Public Accountant and is accredited by the National Restaurant Association.
His community involvement includes personal work with charitable organizations benefiting Meals on Wheels, Alzheimer's research, Nevada Cancer Institute, Nevada Public Education Foundation and March of Dimes, among others.
"Joe's experience and proven track record in managing global brands is invaluable to Froozer®," stated Naha. "We believe that Joe will truly help to accelerate the growth and relevance of the brand."
"I am honored to join the Froozer® board, and look forward to supporting Rich Naha, his talented team of industry professionals and the very exciting Froozer® product line," said Essa.
About Froozer® - "simple ingredients. real nutrition."
Froozer® products, the official healthy frozen fruit & veggie snack partner of US Speed Skating, represent the pure goodness of freshly harvested fruits & veggies picked at the peak of their ripeness, flash-frozen whole and blended for optimal taste, nutrition and digestion. Natural fruits and veggies in all their glory, nothing added or subtracted, not even a drop of water. Available in three delicious flavors - STRAWBANANA BLISS, TROPICAL SUNSET and BLUE ALOHA - in 6-pack boxes. Look for Froozer® in your local grocery store freezer at select fine retail locations in the Denver Area, including WholeFoods and Alfalfa's, and various select retailers in Arizona, California, Connecticut, Oregon, Washington State, Rhode Island and Alaska, or place your order for a 48-count box at http://www.Froozer.com or http://www.amazon.com to have your Froozer® delivered directly to your home or office.
For more information: http://froozer.com/
Contact: Rich Naha, CEO, Froozer®
Phone:303-246-1957, Rnaha(at)froozer(dot)com
Connect with Froozer® on Facebook or Twitter