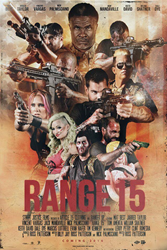 We already have a proven model with millions of YouTube and Facebook views, and we look for challenges the way a rabid honey badger on cocaine looks for a fight. So it just made sense for us to take a huge risk on making a full-length feature film.
Los Angeles, CA (PRWEB) May 17, 2016
On June 15, 2016, the first movie made by the troops for the troops and fueled by the ingenuity of the armed forces community, will hit theaters nationwide. A product of two of the largest military lifestyle brands, nearly a million dollars in crowd funding, real military heroes, and grizzled Hollywood director Ross Patterson, Range 15 is a veteran-driven, blood-splattered zombie apocalypse film that will leave you laughing, crying, and buying guns for days after the experience.
Range 15 is a zombie apocalypse movie combining the talents of industry leaders Ranger Up and Article 15 clothing. The result? A film that isn't for people who want to analyze whether or not they should go to a theater because the plot doesn't agree with their delicate sensibilities. Range 15 is a throat-punch that leaves the audience gasping for dignity.
"I've always made videos to amuse my friends, and when I founded Ranger Up, I looked at it as an opportunity to do the same and create a genuine connection to some awesome people who we are lucky enough to call fans," Ranger Up CEO Nick Palmisciano says. "We already have a proven model with millions of YouTube views and Facebook, and we look for challenges the way a rabid honey badger on cocaine looks for a fight. So it just made sense for us to take a huge risk on making a full-length feature film that drips of blood, sweat, and excellence."
Operating in parallel to Ranger Up, Article 15 clothing received millions of YouTube views in a short time through outlandish and captivating videos starring former Army Ranger and eccentric personality, Mat Best. Palmisciano and Best gravitated toward each other and formed a strategic partnership earlier this year to develop Range 15.
"We had a concept for a great zombie movie, but we wanted to make this thing bigger than what we could accomplish alone," Best says. "The Ranger Up crew and the Article crew had a natural business synergy and a lot in common personally so I brought the idea to Nick and without missing a beat, he was like 'let's do this!' That's actually where the name for the film came from – Ranger Up plus Article 15 equals Range 15. We wanted to show what veterans can do when they work together."
But of course, there are major obstacles to making a full-length feature movie for the uninitiated: experience and money. Filmmaking is neither cheap nor easy. None of the new partners had ever made a movie in an ultra-competitive Hollywood that had the potential to stop the project dead in its tracks. But we're talking about Army Rangers and successful businessmen, so the solution was clear: Indiegogo and the full weight of the military veteran community. The campaign hit its goal in 42 hours, and within 60 days had amassed over one million crowd-funded dollars and enlisted the help of established director Ross Patterson. The Range 15 green light was on.
Range 15 features some of the so-called "baddest" people on the planet, to include Medal of Honor recipients Leroy Petry and Clint Romesha, Lone Survivor Marcus Luttrell, multiple UFC Fighters including Tim Kennedy who serves in the Army Special Forces and Randy Couture, and a metric-ton of modern day warfighters who have to save the world from a zombie virus gone wild. Needless to say, it is more action packed and humorous than Charlie Sheen's dating life. Range 15 features a litany of Hollywood stars, as well. Unapologetically American Hollywood veterans William Shatner, Danny Trejo, Sean Astin and Keith David, just to name a few, lend their talents to provide authenticity of the production. But Range 15's strength also lies in the 25 military amputees who appear onscreen that make the viewer wonder if the writers hacked their limbs off just for the movie. "That's our secret," Palmisciano says. "Whatever it takes," adds Best.
Well, let's just leave that for the audience to decide. Given how efficiently Mary Dague's nubs work with a pair of blades, it may be worth it. But that's not what YouTube sensations, actors, and producers Palmisciano and Best want viewers to know. They insist people understand one thing above all others—this was made for warriors, by warriors, and all the craziness that goes along with them even though they work for competing clothing companies. Range 15 proves once and for all that, when united, the military's war-veterans are not broken and have a place not only in the American Society but in world domination (including Antarctica). And it. Kicks. A**.
The film is being untraditionally released through the muscle of Tugg, where audiences have the power of choice in movie going, by bringing an on-demand experience to local theaters. Tickets can be reserved and purchased at Range15.com.
Range 15 hopes to break the record through this modern-day release outlet, as already 400 plus theaters have been requested it be shown. June 15, 2016, die-hard fans can expect the movie to hit theaters nationwide and to look out for the 15 minute documentary after the movie, too.
Upcoming premieres include the GI Film Festival in Washington, D.C. on May 27 and Vista Theater in Los Angeles, CA on June 3.
For press/media inquiries and/or interview requests, please contact Range 15's public relations representative agency at Jade Umbrella.
Stay Connected!
Follow #Range15 movie updates on Facebook
Ranger Up Website RangerUp.com
Facebook: RangerUpFanPage
Twitter @Ranger_Up
Article 15 Website: Article 15 Clothing
Facebook: Article15Clothing
Twitter @Art15Clothing