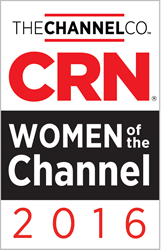 My team and I work very hard to deliver the best and most comprehensive service in the ERP cloud space, and we will continue to focus on improving accounting process for our customers and enable highly regulated businesses to succeed in the cloud
San Diego, CA (PRWEB) May 17, 2016
Linda Rose, Founder and CEO of RoseASP, was named one of CRN's 2016 Women of the Channel and recognized for her outstanding leadership, vision, and unique role in driving growth and innovation in the information technology channel, announced RoseASP today.
CRN is a news and media organization that covers the technology industry. Each year CRN honors women executives who represent vendors, distributors, solution providers and other prominent organizations in the IT space.
"These executives have made a lasting mark on our industry—growing and elevating partner programs, leading transitions to new business models and introducing cutting-edge go-to-market strategies, among other remarkable achievements," said Robert Faletra, CEO, The Channel Company. "We congratulate all the 2016 Women of the Channel and celebrate their singular contributions to the advancement of the channel ecosystem."
Linda Rose is a CPA with 25 years of experience delivering Microsoft Dynamics ERP, and has hosted accounting systems in the cloud since 2000. She is the visionary behind RoseASP, myGPcloud and goERPcloud. Her commitment to customer service and innovation in the Dynamics ERP cloud channel is why RoseASP is able to move hundreds of businesses to the cloud and maintain a 97.5% customer retention rate.
"It's an honor to be named among such prestigious company and I receive this honor on behalf of everybody at RoseASP," said Rose. "My team and I work very hard to deliver the best and most comprehensive service in the ERP cloud space, and we will continue to focus on improving accounting process for our customers and enable highly regulated businesses to succeed in the cloud."
RoseASP delivers audit-ready cloud services for Dynamics AX, GP, NAV, SL and CRM and specializes in highly-regulated and publicly-traded companies. myGPcloud is a turnkey version of Dynamics GP in the cloud, preconfigured for ease of use for SMBs. goERPcloud delivers on-demand cloud trials of Microsoft Dynamics ERP, allowing new Dynamics customers and current Dynamics users who are ready for upgrades to test-drive the latest version of Microsoft's ERP solutions.
CRN is a brand of The Channel Company. The 2016 Women of the Channel list will be featured in the June issue of CRN Magazine and online at http://www.CRN.com/wotc2016.
About RoseASP
RoseASP is a full-services cloud provider for audit-ready Microsoft Dynamics AX, GP, NAV, SL and CRM, offering flexible options from public, private and hybrid cloud environments including Azure Cloud. We specialize in FDA, SOX, and HIPAA (HITECH), enabling highly regulated businesses to leverage the power of cloud to manage the growing complexity of corporate IT requirements while maintaining governance, security and compliance. For more information about RoseASP, visit RoseASP.com.
About the Channel Company
The Channel Company enables breakthrough IT channel performance with media, events, consulting and education, and marketing services and platforms. As the channel catalyst, the Channel Company connects and empowers technology suppliers, solution providers and end users. Backed by more than 30 years of experience, the company draws from their deep knowledge to envision innovative new solutions for ever-evolving challenges in the technology marketplace. http://www.thechannelco.com