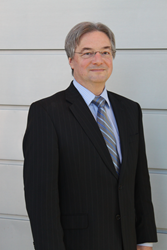 He's going to do it right, no matter how long it takes.
Portage, Michigan (PRWEB) May 18, 2016
NETA, the InterNational Electrical Testing Association, presented James Cialdea, P.E., owner and president of 3C Electrical Company, with its prominent 2016 Outstanding Achievement Award at the association's recent PowerTest 2016 conference in Fort Worth, Texas. 3C Electrical is a NETA Accredited Company.
In presenting the award to Cialdea, Ron Widup, CEO and President of Shermco Industries and President of the NETA Board of Directors, said Cialdea was a clear choice for this year's honor because he "embodies all the qualities that this award represents" by being committed to the advancement of NETA from a business as well as a technical perspective.
"Jim is always willing to pitch in and lead or contribute to a new initiative or breathe life into an existing program that needs a helping hand," said Widup. "Under that calm exterior is a mind committed to asking the tough questions, creating solutions, and getting it done the right way instead of the easy way."
"It is quite an honor to receive this acknowledgement knowing who received the award in the past and understanding all the people who do so much for NETA" said Cialdea. "It was a surprise."
Cialdea holds a B.S. in Electrical Engineering, Power Option, from Worcester Polytechnic Institute and has more than 30 years experience in executing electrical engineering projects. He is a Registered Professional Engineer, a Licensed Master Electrician, a Licensed Construction Supervisor, and a Level 4 NETA Certified Technician.
He began working at 3C Electrical under the tutelage of his father in 1984 and took over the business in 1988. 3C Electrical Company is named for Cialdea's father and his two brothers who started the company in 1971 to service, install, and maintain electrical power distribution equipment. Today, the organization has grown to 60 employees with offices in Massachusetts and Maine. All of 3C Electrical's technicians are NETA certified. Under Cialdea's leadership, 3C Electrical has achieved marked success in performing a broad range of engineering activities.
In addition to serving on the NETA Board of Directors since 2011 and currently serving as First Vice President — and participating on the NETA Membership Review Committee, the NETA Standards Review Council, the Exam Review Committee, and chairing the Alliance Committee — Cialdea holds several other volunteer positions including IEEE Power and Energy Society Boston Chapter Secretary, member of the Commonwealth of Massachusetts Electrical Code Advisory Sub-Committee, and MECA Past President.
Those who know him best say Cialdea has a motto, one that applies to every aspect of his personal and professional life: If you're going to do it, you might as well do it right.
"If he's asked or hired to do something, he's going to get it done — sometimes painfully — but he's going to do it right no matter how long it takes," said Cialdea's son Steve Cialdea, who has worked part-time for his father since age 16 and came on full-time a couple of years ago after earning his master's in electrical engineering. In perhaps one of the greatest compliments a son can give a father, he said, "I always wanted to work with him."
Alex Piccioli, COO and Co-Owner of 3C Electrical Company, has worked with Cialdea for more than three decades, and says he is very well respected in the electrical power industry, known for building long-lasting relationships, devotion to family and employees, and his passion for promoting and supporting educational institutions.
"Joining NETA has been an excellent choice, an important one in helping us to grow our business," Cialdea said. "Everyone should be a part of the associations that shape their industry. It is important to contribute. Getting involved not only makes the industry better, but also helps make your company better, and makes us all better professionals."
ABOUT NETA
NETA is an ANSI Accredited Standards Developing Organization that creates and maintains standards for electrical maintenance and acceptance testing for electrical power equipment and systems, as well as a standard that addresses the certification of electrical testing technicians. NETA is an association of leading electrical testing companies comprised of visionaries committed to advancing the industry standards for power system installation and maintenance to ensure the highest level of reliability and safety.