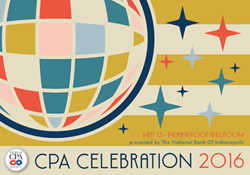 (PRWEB) May 16, 2016
The Indiana CPA Society honored the state's top CPAs at its annual CPA Celebration on May 13. Each year INCPAS recognizes CPAs who have served their profession and/or communities in an outstanding manner. The contributions these professionals make reflect positively on the individuals as well as the CPA profession.
****************************************
DISTINGUISHED SERVICE AWARD
This award is the Society's highest honor. It is given for making significant contributions to the CPA profession, the AICPA and/or the Society on numerous levels.
Mark Hildebrand, CPA-Retired*
Retired CEO, Crowe Horwath LLP, Indianapolis
Mark Hildebrand had over 40 years of management and consulting experience with Crowe Horwath LLP before his retirement in 2012. During his eight-year tenure as CEO, Crowe Horwath became one of the 10 largest CPA firms in the United States. From 1999-2012, Hildebrand served on the Crowe Horwath International Board, and as chairman for five years. He chaired three strategic planning committees over 12 years, helping formulate the network's strategic vision and plan. During his years as a board member and chairman, he was responsible for overseeing the transformation of Crowe Horwath International into a globally branded and recognized network. Hildebrand's leadership and oversight of network strategy resulted in a common core purpose, a common set of values and a common management philosophy. The result of which contributed to substantial growth for Crowe Horwath International and favorable positioning in many of the key economic centers around the world. He was awarded the inaugural Crowe Horwath Lifetime Achievement Award in recognition of his contributions to the network in 2010.
********************************************************************************
CHAIR'S AWARD
This award is selected by the prior Chair for guidance, assistance and support during the Chair's term.
Bettie A. Caldwell, CPA, CGMA
Director of Finance, IU Health Ball Memorial, Muncie
Bettie Caldwell took an untraditional route to the CPA profession. She began her career as a registered respiratory therapist at Lutheran Hospital in Fort Wayne. She later went back to school and received an accounting degree from Anderson University in 2002, passed the CPA Exam in 2003, and achieved her CPA license in 2004. Caldwell has worked in both public accounting for Estep * Doctor & Co., PC, and in industry for Ontario Systems, LLC, Clarian Health and LifeStream Services, Inc. She currently serves as director, finance for Indiana University Health Ball Memorial Hospital. Caldwell's leadership roles with the Society have included both Leadership Cabinet and the Board of Directors with the last two years as vice chair.
********************************************************************************
OUTSTANDING EDUCATOR AWARD
This award recognizes an accounting educator who has made significant contributions to accounting education and the CPA profession.
Kent J. Williams, CPA, CGMA
Associate Professor - Business, Indiana Wesleyan University, Marion
Kent Williams has been a professor at Indiana Wesleyan University in Marion for over 20 years. He utilizes his vast amount of professional experience and connections to benefit all those he teaches and mentors. Previous students speak of Williams' outstanding moral fiber and calling on their professor when faced with ethical dilemmas in the workplace. He developed the entrepreneurship major at Indiana Wesleyan in 2005, and was recognized as a super CPA in education in Indiana Business Magazine's Indiana Super CPAs in 2008. Williams served on the Society's Board of Directors from 2010-15 and as chair in 2014-15.
********************************************************************************
EMERGING LEADERS AWARDS (FIVE WINNERS)
This award recognizes up-and-coming leaders who have already demonstrated initiative in the profession and made significant contributions to the overall success of his/her employer.
Aaron Brannan, CPA
Supervisor, Baden, Gage & Schroeder, LLC, Fort Wayne
Aaron Brannan has played an instrumental role in the introduction of several new and innovative contributions at Baden, Gage & Schroeder. Last year, he formed the Millennial Group with a mission of creating an open forum for the exchange of ideas, encouraging the entrepreneurial spirit, and educating the group on career growth topics. Brannan has also been instrumental in the implementation of the firm's mentorship program which promotes professional and personal growth among employees. Additionally, he implemented the use of SmartSheet, a cloud-based tool used to collaborate with clients.
Andrea E. Castle, CPA
Senior Manager, Crowe Horwath LLP, Indianapolis
Andrea Castle's nomination was full of praise for her work empowering women to take ownership of their personal and professional development. She is the recipient of six Living Our Values Awards which recognizes staff who successfully bring Crowe's values to life on a daily basis. Castle was selected to participate in Women Leading @ Crowe program because of her exceptional performance in her business unit, an ability to inspire others, demonstrated thought leadership and willingness to take risks. Castle spends 40 hours annually developing, preparing and facilitating training content. She also serves as the Butler University School Relationship Manager for Crowe.
Patrick R. Lee, CPA
Tax Senior Manager, Kruggel Lawton CPAs, Elkhart
Patrick Lee has quickly established himself as a trusted leader at Kruggel Lawton CPAs since joining the firm in 2011. He is committed to developing strong, meaningful relationships with his clients. Lee is recognized by his coworkers for exhibiting the admirable characteristics of a CPA: integrity, honesty, professionalism, service and a compassion for others. In 2015, He was selected as part of an internal "Frontier Team," charged with leading the firm's strategic planning process. Lee's ideas and professional commitment to the firm and his colleagues have added significant value to their planning process.
Kathleen A. Nagy, CPA
Director of Finance & Accounting, BCforward, Indianapolis
Katie Nagy joined BCforward in 2014 and was promoted to director of finance and accounting last year. Her technical skills and global experience will continue to assist BCforward with future growth. Her strengths include assisting in the setup of their Mergers and Acquisition team, completion of a successful acquisition, a new system implementation and the setup of a new subsidiary. Nagy was also actively involved in the implementation of new front office software and an upgrade of their GL system.
Eric M. Woodruff, CPA
Audit Manager, Sponsel CPA Group, LLC, Indianapolis
One of the greatest ways Eric Woodruff is a leader is through his excellent leadership. He has been involved with mentoring staff at Sponsel CPA Group and helping them progress in their careers. Woodruff led the restructure of his firm's college recruiting process which resulted in more than doubling their college hires this year. He has also been involved in several business development activities resulting in increasing his firm's client base. Woodruff's community involvement includes serving on the finance committee of Jameson Camp.
********************************************************************************
OUTSTANDING CPA IN COMMUNITY SERVICE AWARD (THREE WINNERS)
This award recognizes outstanding service to the Society, CPA profession and community over a long period of time.
Joseph L. Brown, CPA
Partner, Rodefer & Moss, New Albany
Joe Brown is an exceptional leader at Rodefer Moss & Co., specifically in the area of community service. In his 35 years as a CPA, he has served his community through volunteering, serving on boards and committees of charitable organizations, and leading fundraisers. His contributions have helped to restore financial health to many non-profit organizations in danger of financial failure as well as financially strengthening other non-profits in his community. A few of the organizations he has served, include the Salvation Army, Indiana University Southeast, Southern Indiana Metro United Way, and the New Albany Floyd County School Corporation.
Sara C. Jacobi, CPA
Director, Blue & Co. LLC, Columbus
Volunteerism has always been important to Sara Jacobi. She recognizes the many people who have invested time in her own life and feels it's her duty to pay it forward and give of her time and talents as a way to repay those who have helped her. Jacobi has dedicated over 10 years volunteering with Big Brothers/Big Sisters, served as president of kidscommon, the Columbus Community Children's museum and as committee member for the United Way of Bartholomew County.
John J. Minnich, CPA, CGMA
Professor of Accounting, Manchester University, North Manchester
John Minnich has a passion for sharing his knowledge and financial expertise with nonprofits so they can achieve their mission. During his time serving as treasurer, he recommended and implemented improvements in one organization's financial procedures. For another organization, he co-led the implementation of a new fundraising event that resulted in $60,000 of revenue in its first year. Minnich started the first accounting club at Indiana Tech. He also uses his connections within the community to assist students in finding internships, jobs and gaining an understanding of the wide variety of options available to them in the CPA profession.
********************************************************************************
CPA ADVOCACY AWARD
This award recognizes significant contributions advocating for the CPA profession through government relations.
Philip K. Jackson, CPA, CGMA
Senior Manager, Blue & Co., LLC, Columbus
Philip Jackson has been closely involved with advocacy for the CPA profession and the Indiana CPA Society for many years. His contributions to his employer include monitoring legislation, both from a tax and professional standpoint. He is the current vice-chair for the Society's Tax Resource Advisory Council and attends the AICPA National Tax Conference on behalf of the Society. Jackson has also served as an INCPAS Legislative Key Person, member of the Leadership Cabinet and a member of the Emerging Leaders Alliance.
********************************************************************************
OUTSTANDING CPA IN BUSINESS & INDUSTRY AWARD
This award recognizes a CPA in business and industry who has been instrumental in the success of their employer and/or made a notable entrepreneurial achievement.
Mary Ann Shacklett, CPA
Senior Vice President Finance & CFO - Community Foundation of Northwestern Indiana, Munster
Mary Ann Shacklett is senior vice president of finance and CFO for Community Foundation of Northwest Indiana, Inc. She has been with the system for 30 years and has moved up the corporate ladder to the top financial position in the organization today. Shacklett spearheaded the attainment of the largest bond issue of the system in the amount of $170 million in 2012. Under her leadership, the healthcare system's Standard & Poor rating was upgraded four times since 2008. Because of her contributions, the hospitals and senior living community of Community Healthcare System have been able to move forward in their mission to enhance the quality of life in Northwest Indiana.
********************************************************************************
OUTSTANDING CPA IN PUBLIC PRACTICE AWARD
This award recognizes a CPA in public practice who has contributed to the success of their firm and/or has an interest in providing emerging CPA services to clients.
Trudy J. Stock, CPA, CGMA
President & CEO, Harding, Shymanski & Co., Evansville
Trudy Stock is a role model for others who wish to pursue leadership roles in the business world. Stock displays a genuine interest in others and routinely invests time in staff at all levels within the firm. As a mentor, she is instrumental in setting goals, offering support and giving sound career advice. She also ensures that tools and peer support are available through internal and external coaching programs. As a business advisor, Stock is trusted by her clients to help them achieve their personal and professional goals.
*Hildebrand is in the process of renewing his license status as CPA-Retired with the Indiana Professional Licensing Agency.
###
About the Indiana CPA Society
Nearly 8,100 CPAs in public practice, business and industry, government and education are members of the Indiana CPA Society. INCPAS is the most trusted business resource and advocate in Indiana. Its members are required to abide by the CPA profession's code of conduct. INCPAS members also receive access to quality educational programs and peer networking for knowledge sharing. Society members are trusted advisors to Indiana's business community. INCPAS celebrated its 100th anniversary in 2015. For more information, visit incpas.org.