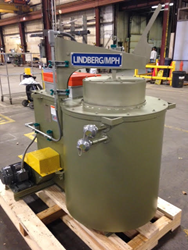 This customer was looking to improve their efficiency of operating their furnace line. By providing a control system that allowed them to monitor and control multiple units, it greatly simplified the customer's process and fulfills their data needs
Riverside, MI (PRWEB) May 17, 2016
Lindberg/MPH announced the shipment of a cyclone pit furnace to a supplier of the aerospace industry. The pit furnace performs a heat treating process on aircraft components. The cyclone design has historically provided optimum heat distribution and exceptional temperature uniformity which makes it ideal for applications such as tempering, normalizing, solution treatment of aluminum and annealing.
This heat treating pit furnace has a maximum temperature rating of 1250º F. The work chamber is 16" in diameter with a depth of 20". This cyclone pit furnace is a direct replacement of an existing piece of Lindberg/MPH equipment the customer already had in place. Lindberg/MPH provided a centralized control system with a programmable logic controller to control this equipment and six other furnaces. The cyclone pit furnace design utilizes a heater plug assembly that is easily lifted out and replaced externally without having to pull elements out through the furnace walls for easy maintenance.
Unique features of this cyclone pit furnace include:

Alloy liner protects work chamber from high velocity flow and prevents damage while loading/unloading
Easily replaceable heater plug assembly
Recirculating fan with variable frequency drive
Workload support
Lid limit switch
About Lindberg/MPH
In addition to melting and holding furnaces for non-ferrous alloys, Lindberg/MPH is a leading manufacturer of standard and custom industrial heat treat furnaces, including pit, box, IQ, and belt type for the ferrous and non-ferrous markets. Lindberg/MPH customers cover a wide range of industries including aerospace/military, automotive, commercial heat treating, energy/oil, electronics and the forging markets. Founded in 1917, the company has more than 75,000 industrial furnace installations worldwide and their equipment is backed by a full range of customer support services and the most extensive replacement parts inventory in the industry. Lindberg/MPH is a proven leader in the thermal processing industry, with a long track record of proven policies and management practices.
Lindberg/MPH is owned by Thermal Product Solutions ("TPS"), a leading American manufacturer of custom industrial ovens used for heat treating, finishing, drying, curing, manufacturing automation and process control. TPS is a global leader in thermal processing products and test solutions with brands including Baker Furnace, Blue M, Gruenberg, Tenney, Lindberg, Lunaire, MPH, and Wisconsin Oven. For more information on equipment solutions from TPS visit the website at http://www.thermalproductsolutions.com.