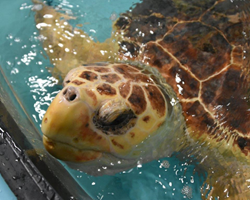 Charleston, SC (PRWEB) May 16, 2016
Honor one of the most endearing and symbolic animals of America's native wildlife by joining the South Carolina Aquarium for World Turtle Day. Taking place May 21, the annual event shines a spotlight on care, conservation and awareness of the oldest living reptiles in the world. Enjoy special on-site turtle-themed activities and programs, plus additional behind-the-scenes tours of the Sea Turtle Hospital.
Turtle-riffic activities from 10 a.m. until 2 p.m. include:

See many turtle species as you journey from the mountains to the sea inside the Aquarium
Visit education stations focusing on different species of turtles
Watch terrapins, some of our smallest turtles, paint unique works of art
Meet the teams that protect endangered sea turtles along the South Carolina coast
Walk away knowing more about how you can help protect threatened and endangered turtles
Take a tour of the Sea Turtle Hospital
Four tours to choose from
Come eye-to-eye with sea turtles currently in recovery
Find out more about their daily care
Tickets: $10 for adults, $5 for children; all proceeds go directly to care for the patients
Enjoy sea turtle story time and a sea turtle themed craft and coloring table
World Turtle Celebration is a great opportunity to learn more about the threats facing turtles and what can be done to protect them! World Turtle Celebration is included with Aquarium admission. For more information, call (843) 577-FISH (3474).
For all media inquiries, please contact Kate Dittloff at (843) 579-8660 or kdittloff(at)scaquarium(dot)org.
About the South Carolina Aquarium:
The South Carolina Aquarium features thousands of amazing aquatic animals from river otters and sharks to loggerhead turtles in more than 60 exhibits representing the rich biodiversity of South Carolina from the mountains to the sea. Dedicated to promoting education and conservation, the Aquarium also presents fabulous views of the Charleston Harbor and interactive exhibits and programs for visitors of all ages.
The South Carolina Aquarium is a 501(c)(3) not-for-profit organization and is open daily from 9 a.m. to 5 p.m. (last ticket sold at 4 p.m.) The Aquarium is closed Thanksgiving Day, half day Dec. 24 (open 9 a.m. to 1 p.m.) and Dec. 25. Admission prices are: Toddlers (2 and under) free; Youth (3-12) $17.95; Adults (13+) $24.95. The Aquarium plus the 4-D Theater experience is free for Toddlers, $22.95 for Children, $29.95 for Adults. The 4-D Theater experience only is $6.95 for Children and Adults and free for Members. For more information, call (843) 577-FISH (3474) or visit scaquarium.org.