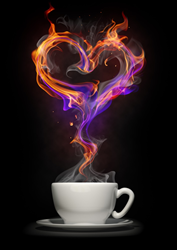 "A day without flavored coffee is like sleep without dreams."
Brick, NJ (PRWEB) May 18, 2016
Smart Sips Coffee has done it again. Just when you thought that every taste bud had been satisfied, the New Jersey-based e-commerce wizard has stepped it up by offering two new innovative flavors, capturing the hearts of bacon and sriracha fanatics everywhere. The bold new flavors now available are Sriracha Honey Almond and Chocolate Maple Bacon.
"The Sriracha Honey Almond coffee brings the heat with a captivating balance of spicy sriracha and the sweet, smooth flavor of honey and almond," said Smart Sips Founder and Owner Lara Gottlieb.
"We are obsessed with bacon and as an ode to our fanaticism have created a coffee that combines our favorite things. We welcome fellow bacon enthusiasts to join us in an incredible cup of savory and sweet coffee—the delectable taste of bacon that everyone loves combined with sweet maple and rich chocolate flavor."
Smart Sips was created by Gottlieb, who after a corporate career in marketing and advertising took a bold move of starting her own business after having her first baby. The stresses of a long commute combined with an entrepreneurial spirit prompted her to leave the corporate world to create Smart Sips. She has since built a company that reflects her values and personality, creating a culture of fun, high-quality and creativity.
Smart Sips are made in small batches to ensure consistency and allow the freedom to test exciting, inventive flavors. "We use an old-style process of flavoring the highest quality beans, and you can taste the difference," says Gottlieb.
Their distinctive menu of offerings also includes Pecan Whiskey, Chocolate Peanut Butter, Chocolate Covered Espresso Bean and Raspberry Rum Ball, just to name a few. Smart Sips also offers flavored hot chocolate and cappuccino.
The single-serve beverage cups for Keurig K-cup Brewers are sold nationwide at http://www.smartsipscoffee.com and Amazon in single varieties or in sampler packs like "Flavor Lovers," "Chocolate Obsession" and "Liquor Lovers." Most 24-cup packs, which are shipped free, are $16.99.