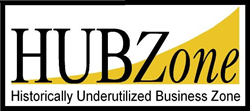 Lakewood, CO (PRWEB) May 17, 2016
The Small Business Administration (SBA) has certified HPC Solutions as a Historically Underutilized Business Zone (HUBZone) small business effective May 2016. The HUBZone Program is in line with the SBA and Congress to promote economic development and employment growth by providing access to more federal contracting opportunities.
Benefits of the HUBZone program:

Competitive and sole source contracts
Opportunity to compete with a smaller pool
10% price evaluation preference in full and open contract competitions, as well as subcontracting opportunities
Creates jobs and prosperity for communities
The HUBZone certification adds to HPC Solutions' list of socioeconomic set asides to include SBA certified 8(a), Small Disadvantaged Business (SDB), Women Owned Small Business (WOSB), and Economically Disadvantaged Women Owned Small Business (EDWOSB).
HPC Solutions also holds multiple GWAC schedules to include GSA STARS II Contract (GS-06F-1040Z) and GSA Schedule IT 70 (GS-35F-0673P) which features Hewlett Packard Enterprise's complete letter of supply. We also are currently competing for the National Institutes of Health NITAAC CIO-SP3 Small Business On Ramp.
About HPC Solutions
High Plains Computing, Inc. dba HPC Solutions offers a broad portfolio of services and solutions in Information Technology, Unified Communications, and Professional Services for the Government and the Healthcare industry. We work with leading manufacturers of IT software, cloud computing, collaboration, storage, and integration. We also offer a wide array of Professional Services solutions to include IT Support and Developmental Services, Data Management Services Network Engineering. Technical Subject Matter Experts, Administrative Services, Engineering and more. Our customers have long relied on HPC Solutions as a trusted adviser and partner.
HPC Solutions was recently awarded the USDA Women Owned Business Contractor of the Year and featured as a 2016 Top Business recipient by Diversity.com. HPC Solutions is also consistently featured on the Inc. 500/5000 list.