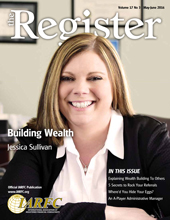 I think being a member of the IARFC helps my relationship with my clients because it lets them know I am holding myself to a higher standard...Jessica Sullivan
Middletown, OH (PRWEB) May 17, 2016
Jessica's educational background emphasizes her pursuit of excellence in the foundation of her career path. Along with an Associate's degree in Accounting and a Bachelor's in Financial Planning, she has completed the requirements for securities as well as LTC licenses.
"I start by learning as much as possible about my clients so that I am aware what they have, what they need and what might need to be changed," relates Jessica in reference to her usage of a financial planning process. "We build a plan suited specifically to a client's needs and goals."
Part of building a workable and successful plan is adapting the current life phase of their clients to the expectation of the results. These life phases start with young couples or single adults and their investment opportunities and challenges. It continue as these entities build their wealth by work and progress in their lives and finally as they prepare for retirement.
Her firm also includes crafting financial roadmaps for small to medium sized businesses. While similar to personal planning, a business roadmap to building wealth encompasses additional aspects such as company goals, continuation plans, and debt cancellation strategies.
For whatever type of client, an effective team approach is important when collaborating with other consultants. These experts in other areas balance the complete team when finding solutions to her client's financial issues. "I find round table discussions to be a very effective team approach when working with other consultants for the benefits of our clients," relates Jessica. "It gives each person a chance to share their knowledge of the client and situation and learn from everyone else's."
Jessica is fortunate to work alongside two partners and an advisor, who between the three of them have over 100 years of experience and wisdom from which to draw. She has taken in so much from their teaching and continues to do so on a daily basis. She acknowledges to her clients how much these mentors have influenced her planning style and how closely they work with each other.
"Jessica is definitely on an upward moving career path, states IARFC Chairman H. Stephen Bailey of HB Financial in Charlotte, NC. "As a Registered Financial Consultant (RFC®) and a member of our Association, the clients are assured that she is holding herself to a higher standard to ultimately better serve them." To read the entire interview with Jessica Sullivan, RFC®, visit http://www.iarfc.org.