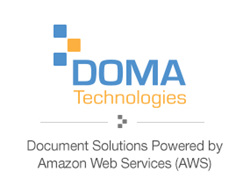 (PRWEB) May 24, 2016
DOMA Technologies (DOMA), a full service Enterprise Content Management company, is now eligible for a range of benefits as a Standard Technology Partner in the Amazon Web Services (AWS) Partner Network (APN). This is a significant milestone for DOMA and helps the organization better assist clients with enterprise cloud migration and information management. The partner status was granted to DOMA based on training, customer engagements, and overall business investment in AWS.
The APN is the global partner program for AWS dedicated to assisting certified partners develop an effective strategy to leverage the power of the AWS technical infrastructure. APN Technology Partners are specialized companies that develop and deliver applications on AWS. As a Technology Partner, DOMA will have access to a wide range of resources and training to help customers deploy, run, and integrate applications on AWS.
DOMA has provided a proprietary SaaS based Enterprise Content Management platform for the last decade to a significant number of customers in Federal, State and Local, and Commercial markets. The DOMA software aligns perfectly with the AWS model as a highly configurable and easily scalable software application that helps reduce the time to benefit with a competitive pricing model. The shift to AWS will further enhance the DOMA solutions while increasing brand awareness and visibility in the market.
"We're excited about the innovative new opportunities that are available now that we are aligning ourselves with AWS. DOMA has been delivering solutions in the Cloud for the last 15+ years and think there is tremendous value in partnering with the global leader in Cloud services." - Pat Feliciano, President of DOMA Technologies.
About DOMA Technologies
DOMA Technologies, a Small Disadvantaged Business, is an Enterprise Content Management, Document Management, and full service Business Process Outsourcing company. DOMA currently provides a full range of business process management services, document and records management software solutions, and document imaging and conversion services. DOMA supports hundreds of clients nationally in healthcare, government, legal, education, non-profit, financial services, utilities, and more.