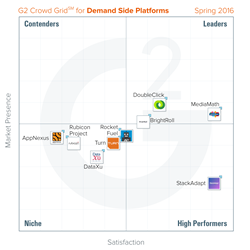 Chicago (PRWEB) May 17, 2016
G2 Crowd, the world's leading business software review platform, today released the Spring 2016 Demand Side Platforms Grid report to help businesses make the best demand side platform (DSP) technology decision. MediaMath, DoubleClick Digital Marketing, and BrightRoll DSP were named as Leaders in the report, receiving strong customer satisfaction scores with large market presence.
StackAdapt was named a High Performer in the report, earning strong customer satisfaction marks with smaller market presence scores. MediaMath and StackAdapt tied for the highest overall satisfaction score, while DoubleClick Digital Marketing earned the highest overall market presence score.
The Grid leverages customer satisfaction data reported by authenticated users along with vendor market presence determined by social and public data. Based on a combination of these scores, each software solution is categorized as a Leader, High Performer, Contender, or Niche.
Key Findings:
•DSPs delivering — Overall DSP functionality was highly rated across products in the category. On average, products in this category received an average rating of 87 percent for overall DSP functionality, indicating that in general, users were relatively happy with the technology.
•Display dominant — On the whole, DSPs included in this report excelled with regard to display advertising performance, according to users. In contrast, reviewers felt many of these platforms lacked capabilities or inventory across other advertising channels such as video, mobile, and social. As DSPs continue to mature, advertisers will be looking to vendors to better expand their cross-channel DSP offerings in order to diversify their real-time bidding strategies.
•Watch your reach — According to reviewers, a key benefit to DSPs is the vast reach they provide. On average, DSPs in this report were rated at 85 percent—one of the higher averages in the category. However, this reach comes with caveats, users warned, as these platforms are still working on addressing brand safety and fraud protection concerns. These two metrics were among the lowest category averages in the report at 74 percent and 71 percent, respectively, and reviewers suggested leveraging third-party partners to combat these issues.
About the Demand Side Platforms Grid report:
•The report is based on more than 270 reviews written by business professionals.
•Of the roughly 39 products listed in G2 Crowd's Demand Side Platforms category, the ranked products each received ten or more reviews to qualify for inclusion on the Grid.
About G2 Crowd, Inc.
G2 Crowd, the world's leading business software review platform, leverages more than 75,000 user reviews to drive better purchasing decisions. Technology buyers, investors, and analysts use the site to compare and select the best software based on peer reviews and synthesized social data. More than a half-million people visit G2 Crowd's site monthly. Co-founded by the founder and former executives from SaaS leader, BigMachines, and backed by roughly $12 million in capital, G2 Crowd aims to bring authenticity and transparency to business technology research. For more information, go to G2Crowd.com.