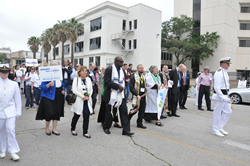 'This impacted my life by teaching me to speak out towards discrimination and to always forgive others.' — Anastasia Kravchenko, winner of March of Remembrance Scholarship
Houston, Texas (PRWEB) May 17, 2016
From April 16 to May 7, five March of Remembrance events took place in the greater Houston area as local community members and leaders gathered to hear firsthand accounts of Holocaust survivors, WWII liberators, and descendants of Nazi officers. Each event began with a host church's opening service, followed by participants marching together in support of this year's theme, "Don't Stand By."
Among the many speakers at the events were Consul Daniel Agranov, Consulate of Israel to the Southwest US, Bernd Reindl, Deputy Consul General of the Republic of Germany, State Representative Dan Huberty, Peter Berkowitz, Chairman of the Texas Holocaust and Genocide Commission, Rabbi Jimmy Kessler, founder of the Jewish Historical Society, Director of Cultural Affairs, Consul of Israel to the Southwest, Guy Cohen, Dr. Patrick Louchouarn, Chief Academic Officer at Texas A&M Galveston (TAMUG), Dr. Todd Sutherland, Assistant Vice President for Student Affairs at TAMUG, Philip Aronoff, Honorary Consul of Hungary to the Southwest, Pastor Jobst Bittner, founder, Global March of Life.
Special guests of honor were Holocaust survivors Ruth Steinfeld, Ben Waserman, Fred Floersheimer, Lili Gordon, Alex Pollak, Peter Loth, and Bill Orlin. They shared with attentive audiences their personal history of the suffering they endured and witnessed both during and after the Holocaust. Second and third generation descendants of survivors also attended, including Helen Utay, Uri Zahora, Rozalie Jerome, Steve Finkelman, Dr. Hy Penn, and Bob Horowitz.
Chris Parker, Marlena Abbott, and Ed Freiter stood as representatives of victim groups; and representing rescuers were WWII veteran Hugh Saye, Dr. Rebekah Baumgarner, Judy Cox, Dr. Victoria Sarvadi, Kris Larson, Jose Arturo Castellanos, Rev. Ed Munn, Rev. Msgr. Fr. Chester Borski, Fr. Richard McNeillie, and Rev. Oliver Stillwell of the Northeast Ministerial Alliance (NEMA).
Other speakers included 94 year-old WWII veteran Birney (Chick) Havey, a liberator at Dachau; Dr. Joan Samuelson, Lone Star College; and David Lawhon, descendant of a WW2 liberator, associate professor of Holocaust studies, and advisor for TAMUG honor students. Dr. Franziska Eckert and Claudia Kiesinger, third generation descendants of Nazi officers, shared their experience of discovering their grandfather's wartime activities, after years of family silence, and expressed their immense grief and remorse for the crimes of their family members. They voiced their love for Jewish life and spoke and committed never to be silent regarding anti-Semitism.
March locations included Galveston, presented by Texas A&M University at Galveston, spearheaded by event manager, Prof. David Lawhon. Rev. Susan Kennard, pastor of Trinity Episcopal Church, Galveston, hosted the opening service, with the help of Rev. Ed Wolf, and Marshal Klaven, Rabbi of Congregation B'nai Israel, with endorsement from the Galveston Ministerial Alliance. The March closed at the historic Pier 21.
In Bellaire, the host pastor was Rev. Kristy Vits, of Christ Church Presbyterian. She was joined by Doug Stringer, founder of Somebody Cares, International, and Gladys Seahorn, pastor of City of Refuge Global Outreach Ministry. Participants marched to Congregation Brith Shalom, where they attended the Citywide Yom HaShoah Commemoration (annual memorial of the Holocaust), presented by the Holocaust Museum Houston. The Hempstead march, hosted by Pastor Fred Thomas III of St. Peter's Missionary Baptist Church ended with prayers at the local Jewish cemetery.
In Baytown, Memorial Baptist Church hosted, with Pastor Piatt, joined by Rev. Dr. Jim Gill, national March of Remembrance liaison to Presbyterian churches.
The Kingwood march ministerial leads were Rev. Doyle Theimer, Christ the King Lutheran Church hosting, and Rabbi Dan Gordon, national march Rabbinic advisor; the first host for the Kingwood march, Fr. Chester L. Borski, St. Martha's Catholic Church, was also recognized. The marchers walked to the future Holocaust Garden of Remembrance at Kings Harbor and were greeted with an on-the- spot volunteer welcoming choir of four elementary school girls from St. Martha's.
The March of Remembrance was brought to the U.S. following the March of Life initiative, founded by Jobst Bittner from Tübingen, Germany in 2007. In recent years, memorial and reconciliation marches have been held all over the world, some lasting for several days and covering thousands of miles. The March of Remembrance U.S. is taking the lessons of the Holocaust to break the silence of fear, pain, and shame caused by prejudice and indifference.
More than 70 years after the end of the Holocaust, xenophobia, nationalism and anti-Semitism are on the rise again in Europe, unlike anything seen since the 1930s. March of Remembrance is calling churches and congregations to hold annual memorial marches in cooperation with the Jewish community around the time of Yom HaShoah in U.S. communities.
Stay updated with the March of Remembrance Houston by signing up for their mailing list.
For more information, visit marchofremembrance.org and marchofremembrancehouston.org.