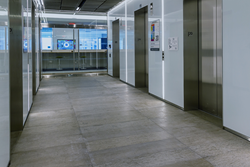 "This is the first major North American installation of Concreate plank flooring, a new category of building material." - Roi Kuris, CEO, Concreate
Los Angeles, California (PRWEB) May 18, 2016
World renowned architecture firm Gensler has selected a new, unconventional flooring material with a unique look and feel for the offices of the world's 6th largest bank. Concreate, a premium pre-finished concrete plank floor covering, is being installed on 17 floors of the Chase Building in Jersey City, NJ. An attractive, durable floor, it was chosen by owner JP Morgan Chase for elevator lobbies, one of the most heavily-trafficked areas of the building. Chase, which already occupies the building, undertook a top-to-bottom renovation as part of a plan to move 2150 more employees across the river from New York and create a technology and operations hub in New Jersey.
"This project is the first major North American installation of Concreate plank flooring," explains Concreate CEO Roi Kuris. "It is a new category of building material. While our flooring is widely used in Europe, Gensler conducted extensive due diligence to determine that the product meets US standards for performance, safety, and sustainability. We are very proud that Concreate passed every test."
Concrete plank floor, a product invented by Concreate, is just ½-inch in thickness. The planks have a burnished concrete finish with subtle color variegation for visual interest. Tongue-and-groove edges and ends simplify installation, and micro-beveled edges enhance cleanability and visual appeal. Concreate provides the appearance and performance of a decorative concrete floor without the multiple disadvantages of pouring and finishing cast-in-place concrete.
Gensler visualized a concrete-look product, and recommended several products with a sophisticated appearance to the client. JP Morgan Chase chose Concreate because it met the design intent within the construction allowance. They selected Dark Gray, one of three available Concreate concrete colors.
One of the important selection criteria had to do with the project's goal of LEED Silver certification. Vidara Group, sustainability consultant for the renovation, required numerous tests, including VOC content and emissions of both the planks and the special adhesive used to install them. Concreate products have numerous green aspects. They are built on a proprietary, high-performance substrate made with a non-Portland cement that is far more sustainable to manufacture than ordinary Portland cement: it consumes 50% less energy and produces far less CO2, a primary greenhouse gas. The substrate is reinforced with natural fibers to give planks increased strength and durability. Planks are installed with Concreate's proprietary SMP Adhesive, a low-VOC adhesive made with recycled rubber granules that give the floor a resiliency not typical of other hard surface flooring, and increase vibration damping and sound proofing. The plank surface is sealed with natural, plant-based oil, and monthly mopping with the low-VOC oil assures long-term durability. Both planks and adhesive are Greenleaf certified, and met LEED indoor air quality requirements of JP Morgan Chase project.
The flooring installer on the project, Continental Marble, also vetted the product before it was approved by the bank. Continental Marble had never installed a Concreate floor before, but installation procedures are similar to other tongue-and-groove flooring systems. After a trial installation Continental Marble CEO Jeff Olsen was impressed with the speed of the work compared to tile or stone flooring.
Another important consideration was that the product is readily available in the US. The product selection was made relatively late in the construction process, but Concreate was able to supply the flooring promptly without delaying the first construction phase. Because the building is occupied, the renovation is being staged in four phases, approximately four floors at a time. Other characteristics that appealed to the project team were Concreate's non-combustibility and Class A fire rating.
"Installation has been smooth, and the project is expected to complete before the end of the year," adds Concreate CEO Roi Kuris. "Following successful installation in the early phases of the New Jersey project, Gensler selected Concreate for two more JP Morgan Chase projects, a second office building in Jersey City and an office building in Chicago."
The selection of Concreate has long-term sustainable and economic benefits, as well. Concreate floors require only simple, environmentally-friendly care, including daily removal of loose dirt and debris, weekly cleaning with a mild cleanser, and monthly mopping with natural oil sealer. No stripping, waxing, or harsh chemicals are used, minimizing both labor and environmental impacts. The floors are stain-resistant and long lasting.
Concreate floor planks are also available with a pre-finished, real wood top layer. Concreate Wood and Concrete planks are fully compatible with each other for easy installation and maintenance, and can be used in mixed patterns for a wide variety of visual effects. The company also makes thin concrete wall panels that complement the flooring. All products are available throughout the world.
For more information, please visit http://www.concreate.net.
- - -
To Download High Resolution Images: https://concreateusa.egnyte.com/fl/MMgwEMJk7I
About Concreate
Concreate LLC is the inventor and manufacturer of patented Concreate plank flooring. This new category of interior finish offers the contemporary look and durability of a concrete floor without the challenges of pouring and finishing a slab. Concreate also makes wood plank flooring and concrete wall panels. Concreate floors are architecturally versatile, easy installing, low maintenance, and environmentally friendly. Concreate products are available worldwide. For more information, please visit http://www.concreate.net.
For more information or interviews: Steve Miller, concreate(at)metaphorce.com