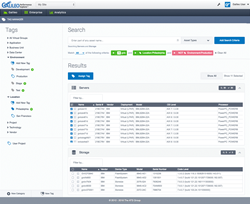 Galileo's new Tag Manager elevates asset level information into intelligent aggregate KPI like constructs that can span the entire IT environment.
Philadelphia, PA (PRWEB) May 17, 2016
Galileo Performance Explorer®, developed by the ATS Group, announced the availability of Tag Manager—a new approach to managing distributed multi-tenant storage, virtualization layers, heterogeneous vendors, and conflicting system management platforms across IT environments.
Tag Manager significantly transforms the visual analysis within Galileo's Enterprise and Predictive Analytics Dashboards. It allows systems administrators and IT executives to assign custom, user-defined tags to any storage, server, SAN, or application assets for creating IT intelligence dashboards by project, business unit, technology, geography, or any other business need.
"Tag Manager is like having a crystal ball into your IT enterprise whether systems are on premise, in the cloud, hybrid or virtual environments," said Tim Conley, Co-Founder of Galileo and ATS. "Deep visual data views of IT Infrastructure can be shaped by assigning user defined labels to user defined IT assets that meet a specific search query or attribute what you want to track. Our customers see this as invaluable for strategic decision-making, capacity planning, configuration management, and more."
Mike Matchett, Sr. Analyst and Consultant at Taneja Group adds, "IT management complexity is only increasing. Today IT needs to manage complex physical, virtual, and now hybrid cloud server and storage solutions as a holistic service. Galileo's new Tag Manager elevates asset level information into intelligent aggregate KPI like constructs that can span the entire IT environment. When used with Galileo's SaaS-delivered IT Intelligence Dashboards, they can eliminate delays in making remediation decisions, prioritize service impacting optimizations, and help IT proactively prevent critical slowdowns or outages."
Galileo's IT Intelligence Dashboards and Tag Manager capabilities are accessible for evaluation via a Free 30-Day Trial program or by requesting a personal demonstration. Contact Galileo for flexible subscription pricing information.
About Galileo Performance Explorer
Galileo Performance Explorer® is the industry's first integrated infrastructure performance management (IPM) suite for servers, storage, SAN and applications. It was designed by data center experts from real-world implementations to improve IT utilization and capacity planning with proactive, convenient cloud-based solutions. Galileo delivers hundreds of analytical perspectives for key decision makers that go far beyond reactive alarms. Built on an innovative SaaS architecture, Galileo installs in minutes without onsite data or expensive hardware requirements. Automatic collection of real-time data, with quick, easy, graphical reporting via an intuitive web interface, offers access to custom dashboards with full drilldown into data details, anywhere, anytime.