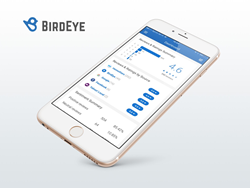 Now, wherever business go, they can take their customers with them.
Sunnyvale, CA (PRWEB) May 19, 2016
BirdEye, the next-generation business reputation and customer experience platform, today announced the debut of its mobile app. Now, businesses can stay connected to real-time customer conversations anytime, anywhere, from any mobile device.
This first-in-class mobile app was designed so businesses can manage every micro-moment of the connected-customer journey. It's as simple as pushing a button to get new reviews, respond to reviews and address customer experience in the moment.
From one clean, intuitive mobile dashboard, the BirdEye app allows businesses to:

Check in customers to get in-moment feedback and build cloud-based customer list
Automatically send review requests via text message or email to customers, clients or patients
Get new reviews --text, video, photo--on business phones or tablets
Monitor new reviews from 100+ review sites
Track social media activity for real-time sentiment
Instantly reply to all customer feedback from one easy-to-use dashboard
Access real-time reports of review, ratings, NPS scores, and consumer sentiment
Auto-promote best reviews to business website, search engines, social channels, and 50+ consumer sites
Manage all business locations from a single mobile device
"At BirdEye we're reimagining how customer feedback can become an active conversation, and we think that mobile is the environment where we can really make this happen," says Pietro Consavari, VP Design at BirdEye. "Today's workforce lives on mobile, where connected customers share their feedback and create informed collective experiences. Enabling businesses to enter this game-changing mobile landscape empowers them to leverage these customer connections and deliver truly next-generation customer experiences."
The BirdEye app takes business reputation and in-moment customer experience to the next level, redefining the nature of customer feedback itself. Now, wherever business owners go, they can take their customers with them.
Download the app here. Login using your BirdEye login and password. Questions? Please contact support(at)birdeye(dot)com.
About BirdEye
BirdEye is a SaaS platform reimagining the way customer feedback is used to acquire and retain connected customers by closing the loop between reputation management and customer experience. The BirdEye platform captures online customer sentiment from review sites, social media, Net Promoter Scores, and support cases in real-time. BirdEye converts all feedback into actionable insights so businesses can engage in every step of the customer journey, establish a positive online presence, and benchmark performance across locations and against competitors. In today's reputation economy, BirdEye provides the eyes, ears and algorithms necessary to create a stand-out customer experience that pleases a consumer society reliant on instant gratification. To learn more, visit birdeye.com or call toll-free #1-800-561-3357. Follow us on LinkedIn, Facebook and Twitter.
Contact
Helen Irias
pr(at)birdeye(dot)com
925-588-5647