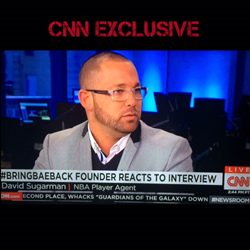 Be The Change You Wish To See In The World
(PRWEB) May 18, 2016
David Sugarman, the Founder and CEO of Sugarman World Enterprises, announces his candidacy for New Jersey State Representative of the 4th Congressional District.
Mr. Sugarman, who has been actively engaged in the socio-political arena to free Americans who are held captive abroad, is now looking to represent the citizens of his hometown. "While organizing the #BringBaeBack campaign, and more recently #WeWantWarmbier, I realized that I have a natural and unlimited concern for the rights of others. It's important for those of us who can speak out to do so and serve as a voice for those who have been silenced," said Sugarman.
"For me, a recurrent theme in all my decisions has been an interest in making people's life situations better. It's why I became an EMS volunteer / CPR instructor at an early age, it's why I support first responders and rescue workers, and it's why I am running for Congress." His participation as a rescue worker began at the age of 14 and planted the seed for his future passion to be of help to others. Over the years, he has lent his support for police, fire and rescue organizations and hospital groups along the East Coast but his connection to New Jersey has remained strong. "I grew up in Marlboro, my parents still live in our family home, it's a wonderful area and there is no better place for me to represent the people."
Turning his attention locally, Mr. Sugarman pledges that he will ensure New Jersey residents are informed on the issues and aware of the policies that impact them. 'I want all the residents of the 4th Congressional District to better understand their local government and the decisions that impact them." Sugarman believes his career on Wall Street as well as his second profession as an NBA Agent has equipped him with world experiences in finance and negotiations that will shape his approach as New Jersey State Representative.
Sugarman is running on an Independent ticket, has filed a valid application, and is finalizing the signature requirement to be added to the post-primary ballot. "I would consider it an honor to serve the people of New Jersey," said Sugarman "and pledge to work to the best of my abilities to foster change and forward progress in my district."  The current Congressman has been in office for thirty years and has an admirable record. "I am definitely ready, and I can handle for the challenge".   
Sugarman World Enterprises is the parent company to SugarTime, Inc. "The Agency" and offers consulting services in the field of brand management, marketing, public relations, network and social media, sponsorship and endorsement deals, and business development.