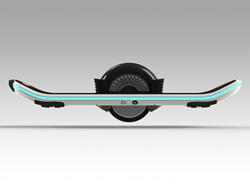 "Feels like your riding in space," says profressional rider Mark Richardson
Los Angeles, Ca (PRWEB) May 17, 2016
Halo Board, a Los Angeles-based company, says it plans to launch its innovative electric skateboard on May 26. The skateboard uses a onewheel concept that feels like riding on snow or surfing on water.
Although the Halo Board relies on a onewheel system, it's exceptionally easy to operate because it uses micro V2 Halo Sensors that adjust the board's balance. Over time, the board even learns its owner's riding preferences and behaviors to offer precise control. Instead of struggling to stay upright, the board makes corrections for an improved and thrilling experience. No other electric skateboard has an adaptive system like this.
Halo Board also offers simple controls that respond to the rider's movements. The board moves forward when the rider leans forward. When the rider leans back, the board comes to a stop. The board also senses pressure from the rider's toes and heels, making it possible to turn left or right through subtle changes in balance.
Since this one wheel board uses an electric motor, it can reach quick speeds with little effort. Experienced skateboarders will love the ability to travel uphill as quickly as they glide downhill on one wheel. It's an adrenaline-pumping ride that constantly adjusts to the rider's needs so he or she stays safe.
The one-of-a-kind board includes Halo Bluetooth Speakers that can stream music from any Bluetooth-enabled device, including smartphones. The speakers are integrated into the electric skateboard and have been finely tuned to create a remarkable sound experience. As riders zoom around town, they can enjoy their favorite tunes, pongs.
The Halo Board (https://haloboard.com/) officially launches on May 26, but buyers can pre-order at the website.