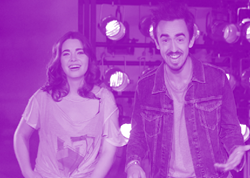 We are excited about The Edge, which focuses on the rise of electronic music and the major festivals that draw millions of millennials across the country
(PRWEB) May 19, 2016
In its first season, The Edge will bring you music through a fresh lens by unraveling the dynamic synergy between electronic sounds and pop culture via interviews with artists, fans and influencers. Topics range from the hottest festivals and fashion to the talented producers and DJ's who make magic behind the booth. Plus, each episode will feature an interview and live mix with hand-selected DJs and artists who continue to expand electronic boundaries.
In short: The Edge is an electronic music and lifestyle destination for millennials that runs
across all platforms (TV, SoundCloud, YouTube, etc.) with more depth and true musical insight than anything available in today's market.
Bruno Seros-Ulloa and co-host/DJ Destinee Handly will take you on this journey through the electronic music world beginning with events and festivals throughout the nation. In just our first couple months, we'll be covering SXSW, Coachella and Lightning in a Bottle! Also, we'll have access to DJ sets and warehouse parties throughout the greater Los Angeles area on top of the exclusive, invite-only sets we tape from our West LA studios.
"We are excited about The Edge, which focuses on the rise of electronic music and the major festivals that draw millions of millennials across the country…" exclaimed Luca Bentivoglio, LATV's Chief Operating Officer. "The Edge will be the first program of its kind, mixing electronic music and pop culture – and it's something that you won't see on any other network!"
Who Will Watch?
Our audience is bicultural and predominantly English speaking, with 65% being born in the US. We are in all major US markets including Los Angeles, Chicago, Miami and New York with a total reach of over 60 million households – including 82% of all US Hispanic households. Furthermore, The Edge will maintain a significant audience via SoundCloud and YouTube.
Media Contacts
Bruno Seros-Ulloa – 310.435.6349 / bulloa(at)latv(dot)com
Arturo Garcia – 949.500.6933 / agarcia(at)latv(dot)com
Destinee Handly – 323.717.0819 / dhandly(at)latv(dot)com