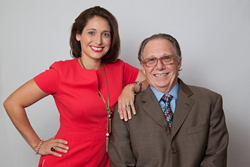 "I grew up watching my father be a power house in this industry so my passion for Travel and Hotels comes naturally," says Alberico.
Dallas, TX (PRWEB) May 17, 2016
International Group Sales (IGS), a trusted leader in the industry of incentive travel and group meetings, today announced the appointment of Norma Alberico as president & director of sales. With this new position, Alberico brings more than 12 years of experience in the incentive travel industry and carries on a rich family tradition, filling the very large shoes of former president and founder of IGS, her father, Jose Villela.
When asked to comment on Alberico's promotion, Villela said, "I am a very fortunate man. After 15 years of operating IGS, I could not imagine anybody better or more suited than Norma to take the company to higher grounds."
"I grew up watching my father be a power house in this industry so my passion for Travel and Hotels comes naturally," says Alberico. "I have and will continue to uphold Jose's legacy and pledge the utmost service and knowledge of our destinations and hotels to our clients."
Alberico joined the IGS team in 2003 and focused on growing the business alongside her father. She quickly gained a reputation for her attention to detail and her ability to match groups to the perfect property, taking into account the group's personality, needs, previous experiences and budgets. Being exposed to the family business her entire life, Alberico developed an intimate knowledge of all the destinations IGS offers. This deep knowledge allows her to respond quickly, even to unexpected program changes and find solutions to make both clients and service providers happy.
Alberico and the entire IGS team work closely with many resort brands to offer a wide range of options for their clients. Just one of those brands, AMResorts, will, by the end of 2018, offer nearly 60 resorts, representing more than 20,000 rooms across the company's six award-winning brands throughout Mexico, the Caribbean and Central America. AMResorts is celebrating its 15th anniversary this year by opening Secrets Playa Bonita Panama and recently announced it would bring its Unlimited-Luxury® concept to Puerto Rico with the Dreams Puerto Rico Resort & Spa, opening in 2018.
Alberico travels extensively to remain up to date on these and other popular destinations. She considers Puerto Vallarta, Cabo San Lucas, Playa Del Carmen, Jamaica and London her favorite destinations and has also been lucky enough to spend time living in exotic locations like Mexico and Japan. She sees these experiences as essential to better understanding her client's needs and new trends in the competitive hotel market.
ABOUT International Group Sales
Serving the corporate community for more than 30 years, IGS represents a portfolio of luxury resorts and hotels in Mexico, the Caribbean & afar each of which is fully capable of accommodating complex meetings and events. For more information, visit http://www.internationalgroupsales.com or by emailing Norma(at)IGSales(dot)net.