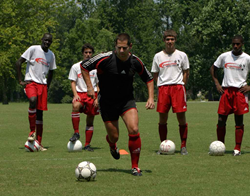 Enrollment is limited to 50 campers, so early registration is strongly recommended to ensure placement.
Newport News, VA (PRWEB) May 19, 2016
Eurotech® Soccer World, developer and exclusive provider of North America's premier technical soccer training system, is pleased to announce new soccer camp sessions this summer in Northern California. Northern California soccer camp sessions will be held July 17th to 22nd at the University at the Pacific campus in Stockton, California, located conveniently to both Sacramento and the Bay area.
This first class camp venue is expected to attract campers from all over Northern California including the major soccer hotbeds of San Francisco, San Jose and Sacramento as well as the surrounding communities of Lafayette, Orinda, Walnut Creek, Benicia, Moraga, Lodi, Livermore, San Ramon, Fresno, Pleasanton and the Danville areas to name a few. 
Eurotech® will strictly limit enrollment of its first year program at UOP to 50 campers (combined Field Players and Goalkeepers). This stunning 175-acre campus is less than a 90-minute drive from San Francisco & San Jose and less than 45-minutes from Sacramento centrally located between every major city in Northern California and has also served as the location for over 15 Hollywood movies!
UOP is also consistently ranked among the top 10 most beautiful campuses in the country, enjoys a wonderful moderate climate in the summer, modern air-conditioned dorms and incredible dining facilities in the DeRosa University Center.
The Pacific Tigers also boast excellent athletic facilities and have a very competitive Men's and Women's NCAA D-1 soccer program. Eurotech® and UOP are both known for their great programs and this host school is on track to be one of Eurotech's most popular facilities, providing an excellent training environment for youth soccer players in Northern California.
"When it comes to camp site selection, we're very selective," said Jim Risher, Eurotech National Director. "UOP is well located and has everything we require to host our first-class camps."
Eurotech's soccer camps will take place from July 17th through July 22nd. Campers can choose either a 4-day or 6-day session, with full day, extended day and overnight options available for both. Like all Eurotech® offerings, the UOP soccer camps are designed for competitive individual players, small groups, as well as club and high school teams, with separate programs for field players and goalkeepers.
Enrollment is limited to 50 campers, so early registration is strongly recommended to ensure placement. Also, campers who act quickly can also take advantage of several discount opportunities, including a Family Camper discount of $25 and soccer club discounts (call or email for details).
For complete information about Eurotech's Northern California soccer camps, including pricing, visit EurotechSoccer.com.
About Eurotech Soccer World
Founded in 1990, Eurotech® Soccer World is globally recognized for developing North America's premier technical soccer training system, the result of 25 years of international research and intense study of the world's top professional academies and youth systems. Key features of this elite instructional system include:

Separate field player and goalkeeper programs designed for competitive individual players, club and high school teams
Unique mix of individual technical and tactical instruction, combined with tournament style matches to develop creative, versatile and confident soccer players
Certified coaching staff recruited from the finest youth programs in the world and featuring former professional, Olympic, collegiate, and national team players and coaches
First class facilities, including college, sports centers and elite prep school campuses
Overnight, extended day and full day program options
For more information, visit http://www.EurotechSoccer.com.