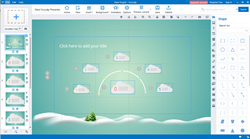 With Focusky's presentation software, you can create engaging zooming presentations for different purposes easily!
(PRWEB) May 19, 2016
Focusky is a premium software designing and developing company that has come up with its presentation software introducing exclusive uses for the users. Many people who have used PowerPoint would be familiar with the layouts and done to death themes and transition effects. Added to that, PowerPoint just allowed presentations to be viewed or done to a few formats only. This is when Focusky comes into the limelight and with promising new features and regular updates, the software is an amazing innovation even for those who have very little animation knowledge.
Top Five Uses of Focusky Presentation Software:

In classes: Presentations done with bright graphics and animation effects is surely helping teachers to make lessons interesting. Even the students find it easy to make professional presentations with easy-to-use software.
In businesses: Using this software, the entrepreneurs shall be able to make a grand impression in the minds of financiers, clients, and even colleagues.
In Training: Corporate trainings get more brownie points when the trainees get drawn to motivational or related presentation slides.
In Advertisement shows: To show statistics, features, or surveys, using smart charts and slides with the Focusky Presentation software is now a trend too.
In Product launches: Clients, vendors, journalists and buyers get a sneak-peek at the products that are due to be launched through these innovative animated presentations.
To have proper understanding of the Focusky presentation software, the users shall browse more features from http://focusky.com/features, or enjoy the animated presentation example from http://focusky.com/digital-presentation-examples.php.
About Focusky Software Co., Ltd
Focusky, founded by Jason Chan in 2010, has earnest endeavor at bringing out the most advanced presentation software, which has helped many users worldwide across different domains. They provide professional tech support for no extra charge for every user.