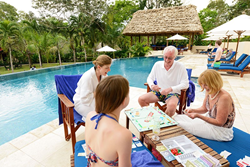 We like to think that we host the ultimate Fourth of July vacation
San Ignacio, Belize (PRWEB) May 19, 2016
The Lodge at Chaa Creek is inviting travellers to celebrate American Independence Day in the newest independent nation in the Americas, Belize, with special discounts and complimentary stays throughout July, according to the popular Belizean eco-resort's general manager.
Bryony Fleming Bradley said she is also encouraging travellers to book now to take advantage of special Fourth of July all-inclusive Belize vacation packages for a relaxed, carefree Independence Day holiday in Belize.
"Each year we're seeing more people choosing to spend their Fourth of July vacations in Belize, and when you think about how much Belize and the US have in common, it makes perfect sense," Ms Bradley said.
"Add in our month-long American Independence Day offer of 'pay for four and get the fifth night on us', it gets even better," she added.
Citing Belize's close proximity to the United States, enhanced air service from major US hubs, pleasant weather and a wealth of activities without the crowds many popular domestic Fourth of July destinations experience, Ms Bradley said English-speaking Belize had much in common with its northern neighbour.
"Both Belize and the United States won their independence from Great Britain, and both are former colonies who continue to enjoy close ties with England. Both nations are multicultural melting pots with strong democratic traditions and value their natural resources with huge national parks and protected coastlines," she said.
Ms Bradley pointed out that many Belizeans and their descendants live in the United States, and that Belize itself has a large, vibrant North American expat community that celebrates many northern holidays such as Thanksgiving, Halloween and the Fourth of July.
"Belizeans are very familiar with, and have a lot of affection for the US and Americans. You'll notice the stars and stripes flying alongside Belize's flag, and there will be plenty of barbecues and picnics with burgers, steaks, potato salads and all the trimmings. Here at Chaa Creek we'll be honouring America's independence in various ways that include American-themed offerings in the restaurant and lounge.
"One of the many attractions of enjoying a Fourth of July all-inclusive vacation is that combination of the familiar with the exotic that Belize offers. Where else can you enjoy a traditional Fourth of July holiday but with the sounds of howler monkeys, toucans and parrots in the background?"
Due to the Belize's location, a range of more competitive airline services in recent years and other factors such as Belize's currency being pegged two-to-one to the US dollar, a Belizean vacation need not cost more than a holiday in the US, especially considering the savings of an all-inclusive package and when factoring in a complimentary fifth day and night, Ms Bradley said.
"Considering everything that's available right here, and with eco-luxe accommodation, all meals, ground transfers, activities and more included, it adds up to a complete vacation that's as easy as it is affordable," she said.
Known as Belize's "Destination within a Destination" due to the extensive amenities, attractions and many things to do within a private 400-acre nature reserve that contains over 70 ancient Maya sites, Chaa Creek's guests are completely cared for from the moment they are picked up at Belize's international airport until they are dropped back off, Ms Bradley explained.
Onsite attractions include a restaurant and lounge featuring farm-to-table dining with just-picked ingredients from the eco-resort's Maya organic farm and fresh Caribbean seafood, an infinity pool, Natural History Museum, butterfly exhibit and a canoe fleet as well as horses and mountain bikes for excursions along an extensive network of trails.
A full service Hilltop Spa offers professional care, and canoe excursions, guided birding and nature walks, horseback trips with licenced naturist guides, ATV jungle safaris and a range of other activities ensure that there is something for people of all ages, Ms Bradley said.
"We like to think that we host the ultimate Fourth of July vacation. Our own Belizean Independence Day celebrations are not until September, so all of us at Chaa Creek look forward to warming up with our many American friends.
"It's always a great time and July is a great month to be here," Mr Bradley said.
Further details about Chaa Creek's Fourth of July vacations can be found on their website or by contacting travel agents or Chaa Creek directly, she added.
The Lodge at Chaa Creek is a multi award winning eco resort set within a 400-acre private nature reserve along the banks of the Macal River in Belize.
ENDS