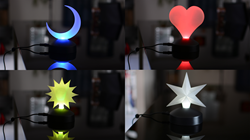 (PRWEB) May 24, 2016
Inventor Roman Zimmerli has designed and manufactured a new LED lamp for the consumer market. Lightlou – the creative light – is a versatile lamp made of high quality tempered glass and uses one watt of power. The campaign is currently running on Kickstarter and ends June 14th. It can be found here: https://www.kickstarter.com/projects/1099738908/lightlou-the-creative-light.
Lightlou comes in four different shapes (heart, sun, star and crescent moon) and includes a two meter power cord and a remote that can adjust the brightness and the color. With over 16 million color options and two flashing variations, the lamp is useful in a variety of settings including the office and at home. With a goal of $153,754 Zimmerli plans to use the funds to continue production of his new product.
"Most lamps I see today in the market are plastic and cheap-looking," says Zimmerli. "After a comprehensive search for a 3-dimmensional light that is adjustable, I decided to create my own."
The light is made out of two eco-friendly materials: a hardened, break-proof glass and a polycarbonate, shatterproof ABS plastic base. Due to the low use of power, the light never overheats, is safe for children and can be used as a nightlight. The color options and light variations can be adjusted with the remote up to 20 feet away. Lightlou stands at less than six inches tall and 4 inches wide making it easy to move. The lamp can be purchased on the Kickstarter site and can be shipped worldwide.
About Roman Zimmerli:
Zurich, Switzerland-based inventor Roman Zimmerli has a background in metal work and is working full-time on the production of Lightlou. His interest in lighting and interior design led him to the invention of the product. Find Lightlou on Instagram: _lightlou on Twitter: @lightlou_ and on Facebook at: https://www.facebook.com/lightlouthecreativelight/
You can find more pictures here: https://drive.google.com/folderview?id=0B4DYB_yjqo4rTmhpLS1BeHhSSTg&usp=sharing