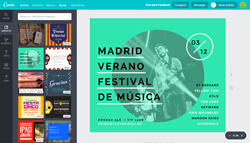 (PRWEB) May 17, 2016
Graphic design software startup Canva has today announced its platform is available in six new languages and revealed plans to roll out at least another ten languages by the end of 2016.
Despite being offered only in English for the last three years, the startup's user base has grown to more than 10 million users across 179 countries. Three designs are created on the platform every second.
The app is now available in English (400 million native speakers), European and Latin American Spanish (400m), Brazillian Portuguese (202m), French (190m), German (100m), Italian (65m) and Polish (40m). This means Canva is now available in the native tongue of more than 1.3 billion people.
"Canva has been a global app since day one and our vision is to get it into the hands of every internet user on the planet," cofounder and chief executive Melanie Perkins says.
"Offering the app in people's native languages has been a huge project, and a very important one as we continue to grow. Ten million users can sound like a lot, but there are more than 3 billion internet users, so we're only just getting started."
The team is currently working on an additional 10 languages, such as Russian, Indonesian, Thai, Malay, Japanese, Turkish and Ukrainian, which are all expected to be available within the next three months.
"By the end of 2017 we intend to offer the app in every major language, including those that require some re-engineering such as Arabic and Chinese," Perkins says.
Perkins and co-founder Cliff Obrecht raised a series A round of $US15 million in late 2015 to fund the rapid expansion of the team to translate Canva, which is available as a web app and iPad app.
Internationalising the app requires not just translating all written English into another language. The Canva design team have been creating hundreds of new layouts and templates for different local celebrations and aesthetics as well as ensuring there are ample pictures and fonts for key markets.