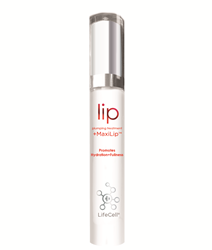 Miam, FL (PRWEB) May 18, 2016
With the rise in popularity of lip injections, LifeCell Skincare has began to focus on what they call an "alternative" to the latest craze in cosmetic procedures. Since launching in 2005, LifeCell has been marketing their line of anti aging products as alternatives to cosmetic surgery. Their current line line is made up of skin tightening and lifting treatments such as the All in One Anti Aging Treatment and Neck Firming Serum. The Firming Body Butter has become a best seller and is regularly listed as "Out Of Stock" on LifeCell's website.
Creative Director Christina Saunders, has been tasked with taking LifeCell in a new direction. A lip plumper. "Our current line of products are formulated for people with older skin who are considering face lifts or Botox injections, now we're trying to make products for younger people who want to get bigger lips. We really believe it's possible to look good without cosmetic procedures, you just need the right stuff."
LifeCell Lip Plumping Treatment is formulated with peptides and hydrating agents. The company claims that this key factor is what sets their product apart from the rest. Lip Plumpers usually cause some sort of swelling or irritation that leads to dry lips, and sometimes bleeding. LifeCell says they have found the solution to this problem by combining powerful peptides with effective hydrators like Hyaluronic Acid.
According to LifeCell, the Lip Plumping Treatment took nearly 16 months to formulate. During this time, they experimented with new ingredients from French laboratory Sederma. The leader in skincare and beauty ingredients helped LifeCell achieve exactly what they wanted: a patented peptide formula that would not just temporarily increase the size of the lips, but also something more permanent. LifeCell claims that with consistent use, the Lip Plumping Treatment's effects will have a long term effect. Independent studies have shown that when applied daily, lip volume increased by 40%.
LifeCell has found success with the popularity of their flagship product, All in One Anti Aging Treatment which retails for $189.00. Their new Lip Plumping Treatment retails at a much more modest price $49. The company's VIP program allows loyal, longtime customers to buy the Lip Plumping Treatment at an undisclosed discounted price. LifeCell will report sales of the Lip Plumping Treatment by the end of the year. They hope to expand their line to include different shades of color by 2017.