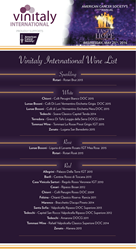 Each year there is an increase in involvement from the Italian wine community and we are so appreciative of all the vineyards and producers who contribute to Taste of Hope
New York, USA (PRWEB) May 17, 2016
As donating for a charitable cause is becoming increasingly popular within the wine sector, Vinitaly International is getting ready to celebrate with the American Cancer Society a seven year collaboration which has seen top Italian wineries contribute to the fight against cancer through the donation of an impressive number of labels on the occasion of the annual Taste of Hope fundraising event in New York.
Whether it's a raffle, a dinner or an auction, there seems to be a definite trend for wineries to make donations often based on very personal reasons or beliefs. Donating wine for a good cause, especially when health related, can also serve to emphasize the importance of drinking responsibly as well as living a healthy life.
"My family has been making wine for four generations. We make wine with grapes naturally grown in our vineyards and we take extreme care of the people that work with us as well as of the people that drink our wines. Good food and good wine is the key for a good life and events like Taste of Hope help increase this awareness" explains Andrea Costa, from Marenco Wines, who will be contributing for the first time to the American Cancer Society's fundraising event on the 25th of May at the Meropolitan Pavillion in NY.
"At this very delicate time in history, when human values are faltering, it is an honour for us to support such a cause. A well-known brand such as ours in a city like New York, will certainly help gather funds for research which is all too often set aside and forgotten" adds Viviana Stagni of Cesari winery.
More recently, though, wineries are also starting to appreciate the marketing benefits which derive from contributing to a good cause: according to a new study in the Journal of Consumer Research, corporate social responsibility produces a 'benevolent halo effect' whereby positive attitudes toward a company translate into positive beliefs about the company's products. In one study for example, consumers rated red wine as tasting better when told about a winery's charitable donation to the American Heart Association.
Charitable marketing is therefore a great way for wineries to gain exposure for their business and get a large number of influential people to taste their wine. The fact that charitable donations are tax deductible naturally only adds to the appeal.
Now in its 11th year, Taste of Hope is one New York's most popular fund raising events and will be attracting, as in previous years, around 800 - 1,000 affluent epicureans and philanthropists from the New York Metro area: lawyers, teachers, young professionals and a number of celebrities will be able to enjoy an exclusive evening and taste signature dishes while sipping quality Italian wines thanks to the precious contribution of some of the most famous New York restaurants as well as the most important representatives of the wine and spirits industry.
From the non-profit organizations prospective the request for wine donations is a common occurrence, perhaps as a consequence of its social aspect that makes it a higher demand item for donations versus shoes, clothes or other consumer goods. In fact, not only can wine supplement the fundraising aspect of an event, but it can also create the mood that will allow the bidders to bid high or guests to spend more.
"We are grateful to Vinitaly for its continued partnership and commitment to our mission," says American Cancer Society Executive Vice President Kris Kim. "Each year there is an increase in involvement from the Italian wine community and we are so appreciative of all the vineyards and producers who contribute to Taste of Hope".
This year's Corporate Honoree, Drew Nieporent, Owner of Myriad Restaurant Group and Culinary Honoree, David Burke, Award-Winning Celebrity Chef will be joined, among others, by special guests David Alan Basche (The Exes) and Alysia Reiner (Orange is the New Black).
The event offers VIP tickets for $275 per ticket and General Admission tickets for $200 per ticket. Guests also have an option to purchase a VIP table of ten people for $3,000 or a VIP table of five for $1,500.
Tickets to take part in the event are on sale now at http://www.tasteofhopenyc.org
For more information please contact usa(at)vintialytour(dot)com
About:
Veronafiere is the leading organizer of trade shows in Italy including Vinitaly (http://www.vinitaly.com), the largest wine and spirits fair in the world. During its 50th edition Vinitaly counted more than 4,100 exhibitors on a 100,000+ square meter area and 130,000 visitors from 140 different countries. The next edition of the fair will take place on 9 - 12 April 2017. The premier event to Vinitaly, OperaWine (http://www.vinitalyinternational.com) "Finest Italian Wines: 100 Great Producers," will unite international wine professionals on April 8th in the heart of Verona, offering them the unique opportunity to discover and taste the wines of the 100 Best Italian Producers, as selected by Wine Spectator. Since 1998 Vinitaly International travels to several countries such as Russia, China, USA and Hong Kong thanks to its strategic arm abroad, Vinitaly International. In February 2014 Vinitaly International launched an educational project, the Vinitaly International Academy (VIA) with the aim of divulging and broadcasting the excellence and diversity of Italian wine around the globe. VIA this year launched the second edition of its Certification Course and today counts 54 Italian Wine Ambassadors and 3 Italian Wine Experts.
About American Cancer Society:
For over 100 years, the American Cancer Society (ACS) has worked relentlessly to save lives and create a world with less cancer. Together with millions of their supporters worldwide, ACS help people stay well and get well, find cures, and fight back against cancer. The American Cancer Society is a nationwide, community-based voluntary health organization dedicated to eliminating cancer as a major health problem. Headquartered in Atlanta, Georgia, the ACS has regional and local offices throughout the country that support 11 geographical Divisions to ensure they have a presence in every community.