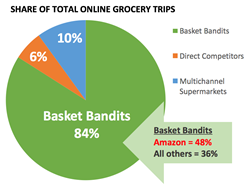 Barrington, IL (PRWEB) May 17, 2016
The supermarket/CPG marketing channel is being outflanked by a broad range of online retail options – but it's hard to fight back until you understand who and what the competition is. Now that Brick Meets Click is releasing the first evidence-based report on the competitive landscape for online grocery, the picture is a lot clearer. This important report will help supermarket management teams successfully navigate the opportunities and challenges that confront them in the online grocery space.
The Supermarket Guide to Online Grocery Competition reveals that the primary competitive threat supermarkets face online doesn't come from the direct competitors like Peapod who are trying to win the customer away, but rather from the "Basket Bandit" sites that siphon off sales, generating a steady stream of sales leakage – and the biggest of these by far is Amazon.
"Consumers have been spreading their online grocery shopping across more sites, and the increased availability of options is dramatically accelerating this trend," says Bill Bishop, Chief Architect of Brick Meets Click and primary author of the report.
Basket Bandits dominate the landscape.
This group is made up of Amazon, a host of other online-only retailers such as Blue Apron, Thrive.com, Drugstore.com, Chewy.com, etc., and the online "stores" of mass and club retailers. The Basket Bandits:

capture 84% of online grocery trips
take in 59% of all online grocery spending
Amazon dominates the Basket Bandits.
Even with AmazonFresh in limited rollout, Amazon captures nearly half of all online grocery trips (48%), compared to 15% for mass and club retailer sites and 21% for non-Amazon sites. Since 2013, the percentage of shoppers that have bought groceries from Amazon in the past 30 days has increased 25%. "We also found an Amazon multiplier effect," says Bishop, "As online grocery trips per month increase, so does Amazon's share of trips. They are continually working on making buying easier, and supermarkets need to respond," says Bishop.
There's good news for supermarkets.
One-stop shopping clearly has a role to play in the online grocery landscape. The study found that multichannel supermarkets win a significant share of the online business once they get established in a market, and the same is true for direct competitors.
Eric Healy, President of MWG (MyWebGrocer), which supported the publication of this report, says "This important research confirms that not only is the advent of digital grocery influencing consumer behavior in ways that impact share of wallet, but also suggests that brick and mortar grocers can still maintain the upper hand when capable of embracing a sound, multi-channel strategy. The complexity of building and sustaining a commerce-centric, digital ecosystem for today's consumers is, however, complex, and far more so than in other industries. We believe the vertical specialization of grocery, need for operational efficiencies as part of concerted 'Click & Collect' programs, and the ability to provide both highly personalized yet profitable ecommerce experiences for consumers will increasingly rely on third-party technology partners like MWG."
By comparing shopper satisfaction scores, the report also identifies where multi-channel supermarkets are currently vulnerable, and it points to three important areas where supermarkets have an opportunity to improve:

The ease of reviewing product information.
The experience of receiving all the items ordered.
The consistent notification of substitutions
Download a free copy of the report.
Visit brickmeetsclick.com/papers and click on The Supermarket Guide to Online Grocery Competition.
The large base of information and insights generated by the research applies to retailers, and also suppliers of branded package goods, food commodity groups, and others interested in retailer/supplier collaboration in the evolving retail landscape. Organizations who want additional briefings on the study should contact Brick Meets Click.
ABOUT THE RESEARCH: Completed in the 4th quarter of 2015, the survey of more than 12,000 digitally connected grocery shoppers in three metropolitan areas across the country is a continuation of BMC's ongoing research into how US shoppers are incorporating digital tools into grocery shopping. The company has been tracking consumers' online grocery habits since 2012.
____________________________
About Brick Meets Click
Brick Meets Click helps grocery retailers and suppliers better understand and respond to a changing competitive landscape, including online grocery. We validate assumptions about current competition and offerings in local and regional markets, and compare customers' behavior on key benchmarks so that organizations can plan their best way forward. Visit us at brickmeetsclick.com to learn more about our business-building expertise.
About MyWebGrocer
MyWebGrocer offers the only complete Digital Experience Platform for grocers and Consumer Packaged Goods brands. The platform powers every interaction to attract, engage, transact with and retain grocery shoppers through digital offerings ranging from planning and shopping platforms to mobile and social tools. The company also offers opportunities for consumer packaged goods brands looking to reach consumers with relevant advertising, promotions and offers throughout their grocery path to purchase. For more information, please visit MyWebGrocer.com, and connect with us on LinkedIn and Twitter.