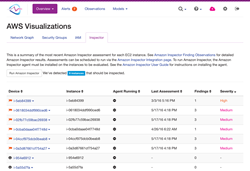 "This integration is the perfect connection between two complementary security services. We are confident that Observable clients can take advantage of this integration to continue to improve their security efforts and results."
St. Louis, MO (PRWEB) May 19, 2016
Observable Clients Simplify Security Efforts and Gain Increased Visibility into Amazon Web Services Applications with Integration
Observable Networks Inc., an emerging leader of advanced threat detection services, today announced a new integration between its Dynamic Endpoint Modeling solution and Amazon Inspector, an automated security assessment service that helps improve the security and compliance of applications deployed on the Amazon Web Services (AWS) Cloud.
Amazon Inspector automatically analyzes the local resource engagement of applications that run in increasingly complex environments. With the new integration of Observable Networks' Dynamic Endpoint Modeling solution, users choose which AWS resource they want to assess, select various rules that they want to evaluate and run the assessment. Amazon Inspector then evaluates the instances and applications for vulnerabilities or deviations from configuration and best practices. After performing the assessment, Amazon Inspector generates a detailed report of potential security issues with prioritized recommendations for threat remediation.
"We were excited about the release of Amazon Inspector because this service is a perfect complement to our endpoint modeling solution," said Patrick Crowley, chief technology officer at Observable Networks. "Dynamic Endpoint Modeling maintains a model of each device on a network, enabling it to track each device's role and alert appropriate staff when anomalous behavior is detected. With Amazon Inspector, the two solutions operate together to provide greater visibility on AWS resource configuration and behavior, thus providing a compelling application security profile."
This new integration gives Dynamic Endpoint Modeling users detailed views into Amazon Inspector resources with critical associated information. It also provides an intuitive wizard to guide users through a workflow to suggest AWS instances most in need of an Amazon Inspector assessment. Users can schedule individual or recurring assessments directly within Dynamic Endpoint Modeling, and when an AWS resource begins to act differently than expected, the Observable solution reports them as observations in a detailed dashboard view. For more suspicious findings, Observable will send alert emails, enabling IT and security staff to take fast action to remediate threats.
"This integration is the perfect connection between two complementary security services," continued Crowley. "We are confident that Observable clients can take advantage of this integration to continue to improve their security efforts and results."
Observable Networks is committed to helping its clients analyze the behavior of applications and devices that run in increasingly complex environments so they can improve their ability to identify potential security issues. Learn more at http://www.observable.net.
About Observable Networks
Observable Networks, Inc. is an emerging leader of network security technology and advanced threat detection services that identify compromised and misused networked devices currently escaping detection by network security tools. Observable's endpoint modeling technology includes a cloud-based service platform incorporating automated security analytics and real-time traffic sensors that continuously model all devices on networks of any size. Observable empowers organizations to understand normal and abnormal device behaviors in their networks, helping them to identify potential threats and facilitate faster remediation. Observable Networks is a privately held company headquartered in St. Louis, MO. Observable Networks is also a proud Amazon Web Service Partner. For more information, please visit http://www.observable.net.