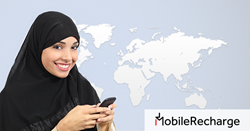 I send credit to my mum's mobile in St Lucia. She has two mobile chips, Digicel and Lime and I can top them up for her any time. It saves her going out to find somewhere to top up, payment is safe too. I pay via Paypal. (lindadaliasammy on Trustpilot.com)
Atlanta, Georgia (PRWEB) May 19, 2016
MobileRecharge.com has recently added Etisalat to the list of networks in United Arab Emirates that welcome top ups from abroad. This gives expats the opportunity to send mobile credit to friends and family in the Emirates, but also people who live the Emirates the chance to top up their own mobiles online, in less than 1 minute: http://unitedarabemirates.mobilerecharge.com/buy/mobile_recharge.
Top ups to Etisalat mobiles in the Emirates are possible due to customer feedback. Etisalat is the second operator available for online refills of mobiles in the Emirates, besides du. The person in the Emirates will receive the credit instantly, and will be able to use the credit received from abroad for local calls, SMS, or data, according to the terms of his or her network.
The latest updates on MobileRecharge.com allow people from the Emirates living abroad to send mobile credit to Etisalat mobiles at home, in the United Arab Emirates. The option to top up an Etisalat mobile online is also useful for those who live in the Emirates temporarily due to their job, or any other reasons.
Values that can be refilled range from $6.14 to $61.42. The condition to make a quick top up is to have a free account on MobileRecharge.com. If one also subscribes to the Newsletter, he or she will get offers by email.
Mobile recharges are preferred by expats instead of other means to support people back home. It takes less than 1 minute to fill in the online form and place the order on MobileRecharge.com. The top up reaches the destination immediately after. The processing fee is the lowest on the market, and incomparable to money transfers or shipping of goods.
This recent change on MobileRecharge.com will increase the international top ups to the United Arab Emirates, and will affect a many of the total 8.92 Etisalat subscribers who will receive mobile credit from abroad from their relatives and friends. Only in 2007, there were over 50,000 people from the Emirates registered in the USA, Canada, India, Pakistan, Jordan, UK, Sudan and Lebanon according to the data generated by MigrationsMap.net. 
The browsing and the ordering process on MobileRecharge.com are made to fit both experienced and inexperienced users. That is probably why fans see the service as "simple" and "easy" according to what they say on review platforms like Trustpilot.com.
Other advantages they found on MobileRecharge.com and could not find about other services of the kind revolve around security, customer care, flexibility and customer satisfaction.
-Transactions are 100% safe; the service bears the label "Verified & Certified."
-Paypal payment is accepted besides all major cards, no matter the currency or country of the customer.
-There are daily promotions always running on the "Promotions" page, or on the MobileRecharge app.

MobileRecharge app is available for those who want to refill on the go.
-The website is available in several languages: English, Spanish, German, French and Italian.
-All fans meet on Facebook, G+ and Twitter to keep up with the on-going promotions, contests or other events. The expat community on MobileRecharge.com Facebook page.
-Customer Service is seen as highly supportive; it is available 24/7 in both Spanish and English, and other international languages.
-Video tutorials are available on YouTube and the website to support expats worldwide.
MobileRecharge.com serves people who left their motherland and moved in a new country for a better life, as well as travellers or professionals who live abroad temporarily. Just to have an idea, there are 50.5 million expats worldwide according to several reports, and the figure is expected to reach 56.8 million by 2017, which is 0.77 percent of the total global population.
MobileRecharge.com is an interactive website designed by KeepCalling, a global telecommunications company registered in 2002 in USA. Presently, KeepCalling provides its services to hundreds of thousands of consumers and businesses, with a focus on customer satisfaction. KeepCalling has been listed by Inc 5000 as one of the fastest growing companies in the USA for 5 consecutive years. In 2015 the company registered a revenue increase of over 200% from 2011 to 2014. MobileRecharge.com is the first brand in history who initiated on November 10, 2015 World Top Up Day to celebrate top up givers worldwide.