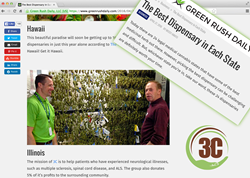 Naperville, Illinois (PRWEB) May 19, 2016
What's the best Medical Marijuana Dispensary in Illinois? 3C Compassionate Care Centers located in Joliet and Naperville, so says Green Rush Daily, which named the Best Medical Marijuana Dispensary in each State in their April 27th edition.
"We were completely stunned when we were notified," said co-founder and retired Judge Robert Livas. "This is a tribute to our amazing patient care specialists who not only are recognized as the most knowledgeable in the field but make sure that each patient is treated on an individual basis, and to my daughter and her husband who ensure that 3C Dispensaries offers the greatest variety of products for patients to choose from."
Judge Livas' daughter, Traci, was stricken with transverse myelitis, which left her paraplegic in 2008. With her husband Hugo, they became determined to help others who've had catastrophic illnesses or injuries. Thus, 3C's Mission is to donate a major portion of profit back to the community and to the United Paralysis Foundation for medical research to help others with afflicting disabilities.
3C's Illinois Dispensaries are located at 1700 Quincy Avenue in Naperville and 1627 Rock Creek Boulevard in Joliet.