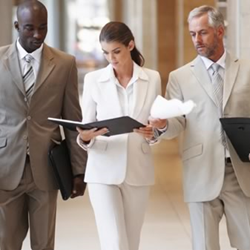 To the best of our knowledge, Interstate Capital is the only factoring company affiliated with a dynamic payable discounting platform of any scale that is in the post-revenue stage of development.
El Paso, TX (PRWEB) May 27, 2016
Start-up payment technology company, BidPay, Inc.®, announces it has processed over $250 million B2B payables through its proprietary cloud-based platform. BidPay is an affiliate of Interstate Capital, a leader in receivable and payable processing and funding. Interstate Capital has discounted $ billions of payments for thousands of clients since its inception in 1993.
BidPay and Interstate Capital's management teams have worked collaboratively to develop one of the first mass-scale payable discounting networks in the world. With BidPay's recently announced expansion to Asia, where suppliers of multi-national companies bid on the right to obtain quick payment, Interstate hopes to capitalize on its nexus with credit-constrained suppliers worldwide.
Interstate's core business involves discounting invoices for small and mid-sized U.S. based businesses—a service known as factoring. "To the best of our knowledge, Interstate Capital is the only factoring company affiliated with a dynamic payable discounting platform of any scale that is in the post-revenue stage of development," explained Tony Furman, CEO of BidPay, Inc. BidPay's technology is patent-pending.
As payment networks, payment technologies, and marketplace lenders proliferate, Interstate Capital management is hoping to monetize discounting just a small slice of a $2 trillion worldwide marketplace of payables. Payable discounting is a more efficient system of delivering liquidity to suppliers than borrowing against receivables from lenders. "There is virtually no transactional friction with the former approach," explains Furman. BidPay intends to piggy-back on existing networks and to integrate its technology directly into best-of-breed, niche ERP systems.
Factoring is an ideal solution for suppliers and vendors of large companies, providing them immediate access to funds once they've delivered a product or service. A factoring company buys—or discounts—the receivable or invoice for its client and collects payment directly from its client's customers.
While factoring invoices may be the ideal solution for the many cash- and credit-constrained suppliers, limitations abound. "Qualifying for factoring is not a guarantee, particularly for suppliers whose receivables are encumbered with liens by other creditors," Furman explains. "In addition, factoring companies may place limitations on the amount of credit they will approve if the credit rating of their clients' customers is below average."
Discounting payables is more like "factoring in reverse" where such limitations do not exist. Every supplier of BidPay's clients has unlimited access to BidPay's auction-style payable discounting platform, where suppliers can obtain fast payment from their customer no matter where in the world the supplier is located.
Interstate Capital management hopes that BidPay provides an advantage over any potential competition with the integration of the two companies' technology platforms. Suppliers on BidPay's platform, for example, may have some customers that are not on the platform. The network will connect those suppliers to Interstate Capital which can provide that supplier with key financial services such as factoring or short-term business loans. At the same time, the network provides suppliers on the BidPay network an opportunity to educate their other customers about the BidPay process. Those suppliers will receive commissions from BidPay, Inc., whenever the supplier matches BidPay with a new buyer that joins the network.
"Tapping Asian suppliers' demand for faster payment from their customers was a turning point for our company," admits Furman. During its initial testing of the technology, BidPay's activities were limited to a small group of U.S.-based suppliers, many of whom were well capitalized and had plenty of access to credit and capital markets. The volume of transactions that took place across the platform was "relatively insignificant." Nonetheless, Interstate's management was able to mine valuable data about demand for payable discounting and proved the model was successful. With the expansion in February 2016 to Asian suppliers, not only did the overall dollar volume of payables flowing through the platform increase exponentially, but so did the actual dollar volume of successfully discounted payables. BidPay earns a percentage of the dollar amount of discounts it generates for its clients. The service is free for suppliers.