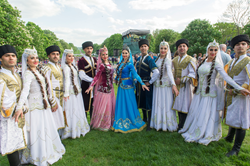 By taking the dancers into Windsor town, local people and tourists have also been able to enjoy the unique costumes and choreography of this talented dance troupe.
Windsor, UK (PRWEB UK) 21 May 2016
The vibrancy of Azerbaijani dance has taken centre-stage in the ancient town of Windsor with a performance by members of the Fikret Amirov Azerbaijan State Song and Dance Ensemble. Their routine complemented the presence of 15 Karabakh Horses in the annual Royal Windsor Horse Show – where they also appeared – and was organised by The European Azerbaijan Society (TEAS).
Both the horsemanship and dances bore testament to the agility, fearlessness and athleticism of the Azerbaijani participants, who amazed all those in attendance.
The Azerbaijani presence at the Royal Windsor Horse Show commemorates the 90th birthday of H.M. Queen Elizabeth II and the 60th anniversary of a stunning Karabakh Horse – named Zaman – entering the Royal Stables, having been gifted by the then-Soviet government. It is significant as the breed originates from the region of Karabakh, which has remained under illegal Armenian occupation for over 20 years.
Sabina Rakcheyeva, Cultural Adviser to TEAS and internationally renowned violinist, travelled with the dancers and saw their performance. She remarked: "The audiences at the Royal Windsor Horse Show have enjoyed watching both the horses and the dance troupe enormously. By taking the dancers into Windsor town, local people and tourists have also been able to enjoy the unique costumes and choreography of this talented dance troupe."