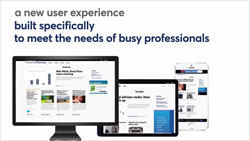 In line with our mission to provide wealth management professionals and executives with crucial and timely intelligence and insight, we're very excited to roll out this latest enhancement for readers
New York, NY (PRWEB) May 19, 2016
SourceMedia, a diversified information and marketing services company, announced the launch of a new digital user experience for its Wealth Management brands – Financial Planning, On Wall Street and Bank Investment Consultant.
The websites take advantage of the company's new digital publishing platform that incorporates, among other things, a flexible and scalable development framework that supports agile delivery of new products and tools, an improved mobile user experience, and other features designed to integrate the company's content feeds, events and other services into the workflow of its audience.
The new sites support the brands' mission to inform and engage the professional adviser community with high-value content, data and tools, emphasizing a simple and intuitive user interface and a fully responsive design that enriches the experience on all devices.
The new web platform is part of a broader initiative to unify all of SourceMedia's offerings and capabilities, including information services, events, research and marketing solutions. The holistic approach will provide an enhanced 360-degree audience view, and related insights, that unlock new growth and development opportunities for the company, its subscribers, and its marketing clients.
New features and functionality include an expanded content taxonomy which displays additional relevant content for users to discover. The morning "Daybreak" delivers a need-to-know-now report curating the day's most important news and analysis. Later in the day, "Trending" offers experts' perspectives on key issues, data analysis and insight.
"In line with our mission to provide wealth management professionals and executives with crucial and timely intelligence and insight, we're very excited to roll out this latest enhancement for readers – designed to help financial advisers and their firms find the content they need to better manage their practices and guide their clients," said Scott Wenger, Group Editorial Director of SourceMedia's Wealth Management Group.
The sites also offer a superior native advertising experience with sponsor-commissioned articles, white papers, infographics and videos fully optimized for contextual discovery within the editorial experience without confusing readers. The continuous scrolling page load capability increases content accessibility and engagement, as well as ad viewability.
"This new platform is a monumental leap forward in how we serve our readers and marketers, but it is also just the beginning. The truly exciting part is that the flexible and scalable platform will continuously evolve with the needs of our audience and enable us to develop new content applications, roll out new features and enhance the experience across all wealth management channels. We are far from done," said Rob Whitaker, SVP/Group Publisher of the Wealth Management Group.
ABOUT FINANCIAL PLANNING
Financial Planning is the leading resource for independent financial advisers, delivering the analysis, strategies and data advisers need to successfully grow their practices. Follow us on Twitter @FinPlan.
ABOUT ON WALL STREET
On Wall Street is the information resource for financial advisers at the nation's wirehouses and regional broker-dealers, delivering practical advice for wealth managers looking to boost their businesses and maximize their clients' returns. Follow us on Twitter @OnWallStreet.
ABOUT BANK INVESTMENT CONSULTANT
Bank Investment Consultant is the dedicated resource for bank-based financial advisers and wealth managers, providing targeted analysis and insight these advisers need to make smart investment decisions, better serve retail clients and achieve performance goals. Follow us on Twitter @BIConline.
ABOUT SOURCEMEDIA
SourceMedia, an Observer Capital company, is a diversified business-to-business digital media, marketing services, research and event company serving senior professionals in the financial, technology and healthcare sectors. Brands include American Banker, The Bond Buyer, Financial Planning, On Wall Street, Mergers & Acquisitions, Accounting Today, Health Data Management, Employee Benefit News and Employee Benefit Adviser.