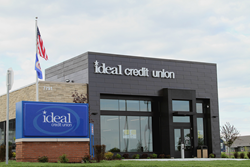 We are excited about the opportunity to expand to this new location, new community and new area. We are confident members will find the new Inver Grove Heights branch to be just as convenient. - Ideal President/CEO Brian Sherrick
Woodbury MN (PRWEB) May 19, 2016
Ideal Credit Union has moved from South Robert Street in West St. Paul to a new state-of-the-art facility in Inver Grove Heights. Located at 7791 Amana Trail, in the Argenta Hills development next to Target, the new Inver Grove Heights office opened for business on Monday, May 9, 2016. The new office is approximately 3,000 sq. ft. and offers a tech-savvy approach to traditional banking, utilizing technology and self-serve features both inside and out.
Argenta Hills is a planned community consisting of 140 single family homes and over 370,000 square feet of retail space, located at the intersections of Highway 55 and South Robert Trail in Inver Grove Heights. The credit union's West St. Paul location at 1725 South Robert Street has been sold to a private developer.
"The decision to sell the West St. Paul office was extremely difficult, but the building is outdated and becoming more expensive to maintain given its age," said Ideal CU President/CEO Brian Sherrick." We are excited about the opportunity to expand to this new location, new community and new area. We are confident members will find the new Inver Grove Heights branch to be just as convenient."
A grand opening celebration at the new Inver Grove Height branch will be held in conjunction with the credit union's 90th Anniversary and annual Member Appreciation Week, set for August 15-19, 2016. Additional details will be posted on Ideal's website at http://www.idealcu.com in July.
Ideal CU has also purchased land in Stillwater and will construct a similar branch at 2020 Washington Avenue. A completion date has not been set, but is anticipated for the fall of 2016.
Founded in 1926, Ideal Credit Union is a member owned financial institution that specializes in providing excellent member service, great rates and convenience. Ideal CU offers a complete range of services, including a full suite of electronic banking products, savings checking, 24/7 loan approval, mortgage products and title services, exclusive VIP member payback, business services, investment services and more. Visit http://www.idealcu.com for details and locations.