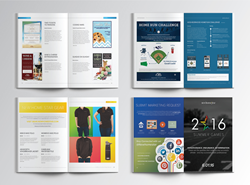 [The catalog is] designed to be complementary to existing builder marketing efforts and provide sales associates with the tools and processes needed to amplify awareness and drive incremental traffic. -Marketing Manager Chris Laskowski
Chicago, IL (PRWEB) May 20, 2016
Hundreds of sales associates from over three dozen homebuilders are set to receive New Home Star's inaugural Star Marketing Catalog, a print publication featuring the company's most successful field-level marketing tactics. The catalog contains a collection of guerrilla-style initiatives ranging from events and promotions to Realtor and referral programs. Crafted specifically for new home sales associates working under the firm's outsourced builder clients, this resource equips a builder's team with creative ideas, as well as cost-free design services through its in-house agency, Star Marketing.
"Our main intention is to inspire the minds of our sales professionals so that they go out in the field and implement time-tested, low-cost marketing strategies," says Marketing Manager Chris Laskowski. "The pinnacle element of this catalog is our Sales Associate Marketing Initiative™ [SAMI] bundles. These bundles are designed to be complementary to existing builder marketing efforts and provide sales associates with the tools and processes needed to amplify awareness and drive incremental traffic. Each SAMI includes a step-by-step guide on how to plan the initiative, a list of essential materials, as well as promotional custom flyers and email templates."
With over several dozen resources highlighted in the catalog's first issue, the company's sales team can look forward to new and exciting content in the future. Project Manager Alex Randazzo, who spearheads the marketing team's collaboration on SAMI projects, says that the new request process ensures one-day turnaround. "We're excited to see how this takes off," he says. "It's our team's commitment to produce high-quality collateral with quick and efficient delivery, enabling our agents to take control of their own success."
About New Home Star
New Home Star is a national real estate sales management firm serving homebuilders and developers across North America. They recruit, select and develop sales teams with a full-time focus on new home sales, working with some of the largest homebuilders in the U.S. and Canada, as well as small and mid-size companies. With a network of local sales divisions from coast to coast, New Home Star delivers sales solutions for businesses with a national perspective and a local presence. Their business goal is simple: To Sell More Homes, More Profitably™.