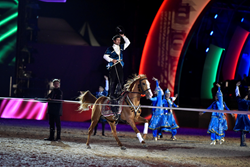 I hope that, one day, I'll be able to see the same performance in Nagorno-Karabakh itself.
Windsor, UK (PRWEB UK) 22 May 2016
In the grand finale to the Royal Windsor Horse Show, a team of 15 Azerbaijani Karabakh horses and the famed Fikret Amirov Azerbaijan State Song and Dance Ensemble performed in front of H.M. Queen Elizabeth II.
The whole extravaganza had been laid on to celebrate the Queen's 90th birthday. Four full days and evenings of events had built up to this climax – a truly Royal extravaganza.
The European Azerbaijan Society (TEAS) and Azerbaijan Equestrian Federation (ARAF) secured Azerbaijan's participation and organised the transportation of the dancers, horses and riders to Windsor. In addition, TEAS erected and staffed an Azerbaijani Cultural Pavilion, which hosted live music events. Many hundreds of Britons and overseas visitors were for the first time exposed to the vibrancy and beauty of Azerbaijani culture, cuisine and hospitality.
The 15 Karabakh horses, whose performances had entranced the crowds throughout the pageant, clearly made an impression on the Queen. As a renowned horse-lover, and an acknowledged expert in all matters equestrian, she was clearly appreciative of the beauty of the horses and the consummate skills of the riders.
Attending as a guest of TEAS Lord Kilclooney, Vice-Chairman, Azerbaijan All-Party Parliamentary Group, put the whole event in context. He said: "I've been to Azerbaijan several times and travelled all over the country, seeing the beauty and varied landscapes that this wonderful nation offers.
"However, as it is under Armenian occupation, one region I have never been able to travel to is Nagorno-Karabakh – acknowledged as the artistic and cultural soul of Azerbaijan. It was therefore particularly meaningful for me to see the Karabakh Horses for the first time last night. Unfortunately, this was not in Nagorno-Karabakh itself, but here in the UK, where 15 of these beautiful creatures are taking part in the Royal Windsor Horse Show to celebrate the Queen's 90th birthday. It was a wonderful performance accompanied by a talented Azerbaijani dance troupe. I hope that, one day, I'll be able to see the same performance in Nagorno-Karabakh itself."
Lionel Zetter, Director, TEAS, commented: "This week's events represented another significant milestone in the ever-strengthening relations between Azerbaijan and the UK, and highlighted the ability of TEAS to bring varied cultures together in areas of shared interest.
"At a time when the conflict on the 'contact line' continues to simmer and, on occasions boil over, it is both pleasant and useful to remind the world of Azerbaijan's rich cultural heritage. A love of horses has always been the sign of a civilised society, and we look forward to ensuring that Azerbaijan is able to participate in future similar events."