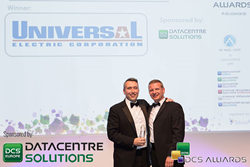 We are honoured to receive this prestigious award and sincerely appreciate the recognition shown for our power distribution and metering solutions that we bring to the data centre market
London, England (PRWEB UK) 18 May 2016
Universal Electric Corporation (UEC), a recognized leader in customisable power distribution systems for the mission critical sector, has won the Industry Award for Datacentre Solutions at the annual DCS Awards Ceremony.
"We are honoured to receive this prestigious award and sincerely appreciate the recognition shown for our power distribution and metering solutions that we bring to the data centre market," said Northern European Sales Manager Clint Skinner, who accepted the award on behalf of UEC. "This also serves as motivation for us to carry on and continue innovating and introducing tailored solutions to meet our customers' goals and objectives. We are very proud to serve the global data centre community."
UEC's Starline suite of products includes Starline Track Busway, Critical Power Monitor (CPM), Plug-In Raceway, and DC Solutions. Track Busway is a customisable overhead power distribution system that has a continuous access slot, meaning power can be tapped at any location. This flexibility matched with the reliability of its maintenance-free joints and optimal plug-in unit design have made it an industry favorite for supplying power to server racks.
Starline CPM works in conjunction with Track Busway to measure the power being drawn at both the end feed and branch circuits, and may be configured to provide data granularity down to the individual outlet level; ultimately improving energy efficiency. The remaining two Starline product lines include Plug-In Raceway, the flexible, wall-mounted power distribution system; and DC Solutions, the revolutionary 380V direct current alternative for data centres.
UEC is proud to be acknowledged by the DCS Awards 2016 and would like to extend its congratulations to all other DCS Award winners.
About Universal Electric
Universal Electric Corporation (UEC), a pioneer in electrical power distribution since 1924, is a world leader in the development of customisable power distribution systems. Industry innovators for more than 85 years, the company's premium, flexible products are designed to fit the electrical power needs of any business in any industry. One of the only companies dedicated exclusively to flexible power distribution products, Universal Electric's award-winning STARLINE and U-S Safety Trolley products have revolutionized electrical power distribution in data centers, industrial manufacturing facilities, retail chains and grocery stores worldwide. For more information, visit: http://www.uecorp.com.
###