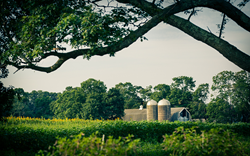 Ipswich, MA (PRWEB) May 17, 2016
Press Contact: Kristi Perry | PR Director |617.542.7696 x2123 | kperry(at)thetrustees(dot)org
MEDIA ADVISORY
WHAT: The Trustees' 125th Anniversary Gala will celebrate The Trustees' rich history as the world's first land preservation organization and pay tribute to the generations of leaders and generous supporters who have helped to save and care for The Trustees' inspired places. Founded in 1891 by landscape architect Charles Eliot, The Trustees today is Massachusetts' largest conservation and preservation organization with 116 scenic, natural, cultural and agricultural properties spanning over 27,000 acres around the Commonwealth, all open to the public.
WHO: Over 500 guests are expected from all over Massachusetts, including 125th Anniversary co-chairs David and Victoria Croll of Chestnut Hill, Stephanie T. and Clement Benenson, of Hamilton, Catherine and Peter H. Creighton of Boston's South End, and Abby and Peter Coffin of Chestnut Hill. Congressman Seth Moulton and EEA Secretary Matthew Beaton (on behalf of Governor Baker) will also be in attendance and offering remarks. Following dinner, guests will enjoy music by the Connection. Catering provided by A Catered Affair. For a list of additional guests, contact Kristi Perry at kperry@thetrustees.org.
WHERE: Appleton Farms, 219 County Road (Route 1A), Ipswich, MA
WHEN: Saturday, May 21st from 5-11PM
PHOTO OPPS: A number of guests will be traveling to the Gala by train, VIPs via 3 Vintage cars and remaining guests via 2 additional, attached MBTA Commuter Rail trains. Photo opportunities include cocktail hour from 5:00-5:45PM on the trains before 6PM Departure and/or at Appleton Farms during cocktail hour from 6:45-7:30PM.
###
The Trustees preserves and cares for some of Massachusetts' most treasured natural, scenic, and historic sites for public use and enjoyment. Founded in 1891 and celebrating our 125th Anniversary in May 2016, we are the world's first land preservation nonprofit and the Commonwealth's largest conservation and preservation organization. We believe in protecting the irreplaceable for everyone, forever. Our passion is to connect more people to outdoor recreation, culture, agriculture, and healthy, active living by using our 116 diverse properties, community spaces, and over 4,100 annual programs as a powerful and compelling platform. Located within minutes of every resident and visited by 1.6 million people in 2015, our properties span more than 26,000 acres across the state – from working farms, landscaped and urban gardens, and community parks, to barrier beaches, forests, campgrounds, inns and historic sites, many of which are National Historic Landmarks. In addition to our properties, we are also an active leader in land conservation. We hold conservation restrictions on more than 20,000 acres and have worked with community partners to help protect another 25,000 acres across the state. In 2014 we became a founding partner of the Boston Public Market, the first all locally-sourced indoor market of its kind in the nation where we operate our Appleton Farms vendor booth and serve as the educational programming partner for the Market's demonstration KITCHEN. Funded by our nearly 125,000 members and supporters, we invite you to get out, get inspired, and find magic in the moment at a Trustees property near you: http://www.thetrustees.org.