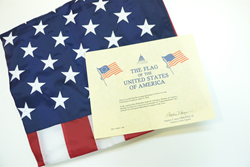 In recognition of Mr. and Mrs. Paradise's award and great contribution to the nation as a whole, a flag was flown in their honor over the United States Capitol
Rhinebeck, NY (PRWEB) May 19, 2016
The New York Small Business Development Center's annual award event recognizes and honors the life changing work of innovative and inspiring entrepreneurs whom represent collectively the largest employer group of 380,000 plus small businesses - the backbone of the economic engine in New York State.
Topical BioMedics, Inc was one of only nine companies selected from every region in the state, honored as the Biomedical Company of the Year, as part of Mid-Hudson SBDC.
Lou and Aurora Paradise needed some financial assistance early in their business and found a very receptive and dedicated person in Al Griggs at SBDC in the Mid-Hudson center that was instrumental in getting a loan from SBA. When it was time for business expansion financing, the Mid-Hudson center was there again for the assistance they needed. Now in their 22nd year of operations, sales are up 30 % over 2015 and the company is poised for accelerated growth in the months ahead.
Sincerely honored and with great humility, founders Lou and Aurora Paradise: "Our SBDC business advisor, Al Griggs, has been a major part of our business growth since the beginning. We appreciate and are grateful to the entire staff at the SBDC, and look forward to working with them in the future."
In celebration of the great and inspiring achievements of their fellow entrepreneurs and small business owners, Mr. and Mrs. Paradise donated 200 bags with tubes of Topricin Pain Relief and Healing Cream to their fellow entrepreneurs and SBDC conference attendees, to thank them for their diligent efforts, enthusiasm and passion for all they do to make the world a better place.
Says Nancy L. Zimpher, Chancellor of the State University of New York: "The State University of New York is especially proud of our work with the Small Business Development Centers because we fully understand the necessity of successful small businesses to the health of our economy and communities – that they are the backbone of the economic vibrancy, and shape and influence the quality of life in every region in the state."
At this year's gala event hosted at the Fort William Henry Hotel and Conference Center in Lake George, NY, 9-awards were presented in the following entrepreneurial categories: Exporter of the Year, Growth Company of the Year, Manufacturer of the Year, Minority Entrepreneur of the Year, Procurement Entrepreneur of the Year, Technology Entrepreneur of the Year, Veteran Entrepreneur of the Year, Woman Entrepreneur of the Year – and Topical BioMedics, Inc award- Biomedical Company of the year.
SBDC chooses companies from a number of standard categories including; minority, veteran and women owned businesses and manufacturing, growth, etc.), and select what they deem as the most outstanding companies in those categories each year. The biomedical company of the year is one of the specialized award categories, presented for an outstanding company from a specialized field that has done well with SBDC assistance. Other occasional award categories include agricultural, export, green/environmental, energy, home-based, and Phoenix (companies impacted by a disaster and successfully recovered).
The process to select award winners involves the SBDC asking advisors and directors at New York State's regional centers and special project coordinators to nominate business owners they feel deserve recognition as an outstanding NYS small business/entrepreneur. The SBDC has a committee at the Central Office (HQ) that reviews the nominations and selects the award winners.
Topical BioMedics, Inc was one of the only companies in the biomedical category that was nominated this year, though SBDC has worked with many biomedical companies over the years.
The SBDC has been giving out Entrepreneur of the Year awards to recognize NYS small businesses that have been successful with SBDC assistance since 1992.
In recognition of Mr. and Mrs. Paradise's award and great contribution to the nation as a whole, a flag was flown in their honor over the United States Capitol on April 15, 2016 at the request of the Honorable Nydia M. Velazquez, Member of Congress of the United States of America.
About Topical BioMedics, Inc.: Topical BioMedics is a research and development leader in the transdermal application of natural biomedicines in combination, through its patented healing technology platform, Topricin. The company's flagship product, Topricin® Pain Relief and Healing Cream, was introduced in 1994 as an innovative 21st century approach of relieving the cause of pain at the cellular level by supporting an optimum healing response, assisting the body's desire to heal the damaged cells causing the pain. Topricin is now a leading natural therapeutic brand, both for active people and in patient care.
The products contain specialized formulations of 11-14 natural biomedicines, treating a wide range of pain ailments and awarded patents for the treatment of pain associated with neuropathy (diabetic and chemo-induced) and fibromyalgia. Topricin products are changing the way pain is diagnosed and treated and have become mandatory treatment protocol at world renowned medical centers. Treating the cellular cause of pain results in reduced dependency for all classes of oral pain pills including opioids.
This natural healing product line also includes; Topricin Foot Therapy Cream, specially formulated to treat the challenges foot and ankle pain issues. Topricin for Children, which received the Parent-Tested, Parent-Approved, Seal of Approval (with 5% of sales donated to a pediatric cancer foundation in NY State). The company launched the MyPainAway® (powered by Topricin) line of products. Its two new formulas MyPainAway Fibro Cream was formulated to provide viable pain relief for people with fibromyalgia, and MyPainAway After-Burn Cream that treats the cells damaged by a burn. MyPainAway Sports Cream will launch June 2016.
Topricin is proud to be, Made in the U.S.A., with lots of Love, pure biomedicines, no harsh chemicals, will not interfere with any other medicines making Topricin products ideal for the entire family, restoring hope and quality of life supporting a Healthy Active Lifestyle.
Topical BioMedics launched a free monthly pain management webinar in February 2015. Featuring Lou Paradise, president, chief of research, and pain management expert The webinars are streamed live the last Thursday of each month from 1pm to 1:45pm then archived on the company's WordPress blog and YouTube channel for on-demand access 24/7. https://topricin.wordpress.com/
Topricin is available in independent pharmacies, natural food and co-op stores nationwide, including Whole Foods, Sprouts, Pharmaca, The Vitamin Shoppe, Fred Meyer, Wegmans, CVS, Walgreens (Diabetic Section), and other fine retailers, as well as directly from the company.
For more information visit http://www.topricin.com.
About the New York Small Business Development Center: The NY SBDC, administered by the State University of New York (SUNY), has 24 regional service centers located throughout New York State on SUNY, City University of New York (CUNY), and private university campuses. Since inception in 1984, the SBDC has provided small business advisement services to more than 374,000 New Yorkers. The SBDC also provides training and business research to existing business owners and entrepreneurs. SBDC clients have invested more than $6 billion in NY, impacting more than 165,000 jobs.
The SBDC is funded in part by the U.S. Small Business Administration, the State of New York, local communities, and host campuses. As a result of this leveraged support, the SBDC staff provides confidential one-on-one business advisement services at no direct cost to the citizens and entrepreneurs of New York. For more information about the SBDC, visit http://www.nysbdc.org.
About the State University of New York: The State University of New York is the largest comprehensive university system in the United States, educating nearly 463,000 students in more than 7,500 degree and certificate programs, and more than 1.8 million NYS citizens in professional development and personal enrichment programs, on 64 college and university campuses, and online through Open SUNY. There are nearly 3 million SUNY alumni worldwide. To learn more about how SUNY creates opportunity, visit http://www.suny.edu.
About the State University of New York: The State University of New York is the largest comprehensive system of higher education in the United States, with 64 college and university campuses located within 30 miles of every home, school and business in the state. In 2014-15, SUNY served nearly 1.3 million students, including nearly 600,000 in credit bearing courses and programs and nearly 700,000 through continuing education and community outreach programs. SUNY students and faculty across the state make significant contributions to research and discovery, resulting in nearly $1 billion of externally-sponsored activity each year. There are 3 million SUNY alumni worldwide and one in three New Yorkers with a college degree are SUNY alumni. To learn more about how SUNY creates opportunity, visit http://www.suny.edu.