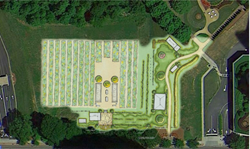 Atlanta, GA (PRWEB) May 17, 2016
Planted squarely in the middle of Midtown on nearly four acres of land is Vineyard in the City, the Atlanta Food & Wine Festival's pop-up vineyard and the first of its kind in the US. The vineyard is made up of 60, 20-year-old Sun Grown grapevines, each spanning 12-feet, from Jaemor Farms in Alto, GA. The space will also feature a wild flower meadow, two bocce courts, Chinese Elm, Black Gum, Silver Date Palm and Green Japanese Maple trees. The Vineyard will be the "it" destination for several weekend events during the upcoming Festival.
Designed by Bellwether Landscape Architects, hosted by KORA Real Estate Group, and presented by PNC Bank, Vineyard in the City is among one of the many exciting new additions to the 2016 Festival. All Festival events are ticketed activities and will feature food and drink creations from award-winning talent, wines poured by the South's best sommeliers and presentations from winemakers from France, Portugal and New Zealand. With the generous support of Vineyard in the City sponsors, the Vineyard will become a destination for the community after the Festival wraps through June 30, giving visitors a chance to enjoy the enchantment of a vineyard right in the heart of Midtown. Post-Festival events will include arts performances, pop-up chefs and box lunches.
"The mission throughout the design process was to capture the peaceful, earthy essence of a countryside vineyard, while infusing a few healthy sprigs of sophistication from Midtown," said Todd Yeager, Managing Principal of Bellwether Landscape Architects.
"Transforming vacant urban spaces into pocket parks and gathering places is a priority for Midtown and Vineyard in the City is an exciting and unique approach to accomplishing this," said Kevin Green, President and CEO of Midtown Alliance. "During the month of June, we look forward to residents, workers and guests in Midtown enjoying the Vineyard and the variety of programming we're developing with Atlanta Food & Wine Festival and PNC."
Events hosted at Vineyard in the City include Grapes from A to Z Wine Luncheon with Master Sommeliers; Masterclass: Breakfast Batched – In-Depth Food & Drink Pairings; Masterclass: Old World vs. New World, and a VIP Sunday Brunch. The event space is meant for both intimate gatherings, groups of 30 to 40 people, and larger groups of up to 180 people.
"Bellwether leapt at the opportunity to join the Atlanta Food & Wine Festival to create an utterly unique setting in a typically predictable urban environment," said Yeager. "Having not seen something like this here in the US, a 'pop-up vineyard' in the heart of our city surrounded by towering steel and glass skyscrapers is the perfect exclamation point on this world class event. We are thrilled to have joined the Festival's team in creating Vineyard in the City and are especially excited for all who will experience it."
Installation is underway and curiosity and excitement about the Vineyard is building among local residents and business people. Vineyard in the City will officially open on Thursday, June 2 for the Atlanta Food & Wine Festival weekend and then remain open until June 30 for community use, live music, free arts programming and events presented by PNC and Midtown Alliance.
"We are excited to collaborate with the Atlanta Food & Wine Festival for the fourth consecutive year, and to work with Festival organizers to create Vineyard in the City," said Eddie Meyers, PNC regional president. "For PNC, the Vineyard is more than an event venue; it's an example of our shared commitment to supporting arts and cultural programming. We love that the Vineyard will live on beyond Festival weekend, giving our friends and neighbors access to unique and engaging arts programming throughout the month of June."
"The idea for Vineyard in the City came from McGuigan Wine's pop-up vineyard in Dublin, Ireland. We knew pulling this off was going to be a major feat but with our partners at Bellwether, Heirloom Tree and Garden and our sponsors, our crazy dream is becoming a reality," said Elizabeth Feichter, Festival co-founder. "We're excited to be the first to do this in the U.S. and to use the Vineyard as a great destination for our Festival guests, but we're even more delighted that we'll be able to share the space with the Midtown community."
About Atlanta Food & Wine Festival
Launched in 2010, by Atlanta entrepreneurs Dominique Love and Elizabeth Feichter, the Atlanta Food & Wine Festival is a four-day culinary experience celebrating the South. With an Advisory Council of more than 80 award-winning talent from 13 Southern states and the District of Columbia, the Atlanta Food & Wine Festival offers carefully-crafted programs and events to entertain and educate consumers about the rich food and beverage traditions of the region. The Festival also celebrates the flavors of other Southern regions around the globe including Southern Europe, South Africa, South America, Southern Hemisphere (Australia and New Zealand) and South-of-the-Border for Mexico. In 2015, the Festival entered into a joint-venture with UK-based IWSC Group, parent company of the prestigious International Wine & Spirit Competition, making the Festival an event of the IWSC's North American portfolio. Atlanta Food & Wine Festival returns to Midtown Atlanta Thursday, June 2 – Sunday, June 5, 2016. For more information or to purchase tickets, visit http://www.atlfoodandwinefestival.com. Follow Atlanta Food & Wine Festival on Facebook, Instagram and Twitter. #AFWF16 #KnowTheSouth
About Bellwether Landscape Architects
Bellwether is a resourceful Landscape Architectural firm with plenty of energy and ideas. The experienced team focuses on getting to know clients, their families, and their lifestyles to better understand the unique goals each property allows. Based in the Buckhead area of Atlanta, the company frequently travels to the mountains of North Carolina, the Georgia coast, and other far flung places throughout the country for clients. Bellwether's insightful designs prioritize functional and versatile landscapes enhanced by discerning details and fine garden style. By blending each client's inspiration with the company vision, Bellwether designs outdoor spaces that clients love to live in and retreat to, season after season – year after year.