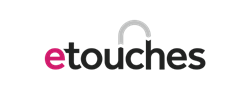 As a unique offering in the event management space, etouches is setting the standard for client privacy in the industry.
LONDON, UNITED KINGDOM (PRWEB) May 18, 2016
etouches, a top provider of cloud event management software, today announced the availability of its new European event cloud instance. This addition is a key move for the event software company, offering not only enterprise clients, but all clients, the ability to host their event data in Europe, which meets stronger data privacy and compliance standards. As a unique offering in the event management space, etouches is setting the standard for client privacy in the industry.
By choosing to run its European instance on Amazon Web Services, the world leader in cloud hosting, etouches brings to its customers the highest PCI DSS level 1 standards and develops unmatched policies to proactively surpass upcoming SafeHarbor and Privacy Shield regulations.
With many businesses implementing security requirements and policies that exceed industry standards, etouches is ready to meet the needs of these organisations. Not only has etouches added local hosting for regions, but the company has also upgraded to data-at-rest encryption, which gives clients optimal security for their sensitive information whether it is being transferred or stored.
"etouches data protection & security policies have always outpaced industry standards, and adding a regional data centre for Europe demonstrates etouches' dedication to operational excellence in both security and responsiveness," said Chief Technology Officer of etouches, Shane Edmonds. "Regional data hosting combined with our recent move to full data-at-rest encryption is a winning combination of the highest level of security and compliance standards for electronic data."
All new clients that sign on with etouches will now have the ability to choose in which region their data will be hosted. This will be across entire users for their organisation. By the fourth quarter of 2016, existing etouches customers will have the option to keep their data hosted in their current region or be offered a migration plan to the new region of their choice.
"Since etouches inception, we have been committed to serving the specific needs of our European customers, most recently by expanding our UK and Belgian teams in all aspects of our service delivery," said Managing Director, Sales for EMEA Tim Bull. "This latest step is fantastic news for our clients and potential clients seeking to work with a global leader of event management technology that have strong compliance policies in their region."
About etouches:
etouches is a global end-to-end event management software solution. The success oriented and cloud-based platform delivers innovative technology solutions to streamline the event process and increase ROI. Founded in 2008, etouches has assisted over 20,000 event professionals in planning, executing and measuring their events. With a focus on event sourcing, registration, marketing, logistics, engagement and data, the software solution has been able to serve more than 1,200 customers in corporations, associations, agencies and educational institutions. Headquartered in the United States in Norwalk, CT, the company has five additional global offices in the United Kingdom, Belgium, Australia, Dubai, and Singapore. Learn more about etouches at http://www.etouches.com.