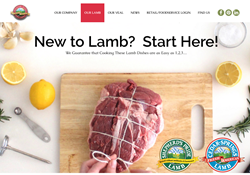 "We're delighted to see American chefs and trend-setters embracing what has been known by cultures across the globe for centuries–that lamb is a sensory eating experience unlike any other." - Ernie Davis, COO of Mountain States
Greeley, CO (PRWEB) May 19, 2016
The roughly one-third of minorities in the U.S. is driving nearly 60% of total U.S. lamb consumption. Plus, the robust millennial population segment is seeking out lamb as it fulfills their hunger for adventurous, authentic, local and "ethically minded" foods. Both of these factors have contributed to what the most recent Dataessentials Menu Trends research reports: Among all entrée proteins in restaurants, lamb has sustained the greatest growth.
"We're delighted to see American chefs and trend-setters embracing what has been known by cultures across the globe for centuries--that lamb is a sensory eating experience unlike any other; prized for its pure, fresh, bold-flavored taste and its many healthful attributes," said Ernie Davis, COO of Mountain States.
According to research from The American Lamb Board, most people prefer the taste and tenderness of U.S. lamb but they just don't know how to cook it. So, today Mountain States is pleased to announce the launch of http://www.mountainstatesrosen.com/, a brand new website chock-full of helpful shopping, cooking, nutrition and entertaining advice to help both novices and veterans easily whip up the best lamb and veal dishes with the best lamb and veal in the world.
Here's a sampling of what visitors to the new MountainStatesRosen.com website will find:

A compendium of new seasonal and on-trend recipes developed by top Foodie Nation bloggers as part of the first-ever ReVEALing Excellence Recipe Contest. Today, Mountain States and Foodie Nation announced the contest winners, including the Grand Prize Winner Alice Phillips of Ally's Kitchen who created an aromatic, tongue-teasing Moroccan Veal Kefta with a lemon-infused creamy dipping sauce. Whereas many grilled keftas tend to dry out during the cooking process, Cedar Springs Veal made this delight-on-a-stick crispy on the outside and moist and juicy on the inside. Get the recipe here: http://www.mountainstatesrosen.com/recipe/moroccan-veal-kefta
Where their food comes from. Learn all about the family ranchers who raise your family's food, the right way, right here. Shepherd's Pride lamb ranchers pledge to never ever use antibiotics, added hormones or any fillers or artificial ingredients. It's the only Where Food Comes From Source-Verified® lamb in the U.S. Find out more and where to buy it: http://www.mountainstatesrosen.com/our-lamb
Why lamb is considered a "clean, lean protein," that is nutrient rich, including having five times the healthy omega 3 as beef.
Easy instructions on lamb and veal cuts and how to cook them. There are recipes galore, especially crowd-pleasers for the summer grilling season ahead.
Engaging videos taking you "behind the scenes" on a ranch, and providing insider cooking tips from YouTube culinary sensations.
Mountain States, located in Bronx, NY, and Greeley, CO, is a producer-owned co-op of U.S. family ranchers raising lamb and veal generation after generation, the way nature intended. They pass along best practices and have an unwavering commitment to animal care and wellness; environmental health and land stewardship; and the production of pure, safe food. Its premier products are available at retailers and restaurants nationwide and abroad. Brands include Shepherd's Pride source-verified, antibiotic-free lamb, Cedar Springs all-natural lamb and veal, private label brands, and others.
###