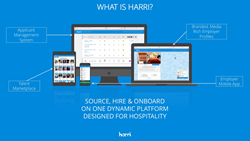 I showed my team the elegant branded career pages, how easy to use it is and the fact that on-boarding paperwork will be digital and automatically sent to the candidates.
Chicago, IL (PRWEB) May 18, 2016
Harri, a global talent technology platform built ground up for hospitality, will showcase its powerful Total Talent Solution at the largest annual gathering of the restaurant, food service and hospitality industry; the NRA Show in Chicago, May 21-24.
Harri's Total Talent Solution enables employers to source, hire and manage talent, all on one dynamic platform. It was designed for the unique needs of the hospitality industry, by seasoned hospitality professionals.
With Harri's Total Talent Solution employers can:

Reduce hiring costs by 48% and hiring time by 68%
Replace up to 10 existing software systems with one integrated solution
Attract the best talent for your business needs
Eliminate paperwork with a digital employee on boarding process
Enable long term success of your team with best in class management systems
To date, over 1,500,000 applications from chefs, bartenders, servers, hostesses, and managers have been submitted to over 50,000 jobs posted on Harri.
Currently operating in New York, Los Angeles, London, Chicago, Las Vegas, and Washington DC, Harri partners with over 3,500 brands ranging from fast casual to upscale, full-service dining. Some of Harri's partners include Tao Group, Eataly, sweetgreen, Nobu, Soho House, LDV Hospitality and The Meatball Shop.
About Harri
Harri is a Total Talent Solution - to source, hire and manage talent - for the services industry. With Harri's all-in-one digital platform, employers can find and on board top talent for their business, reducing costs and saving time.
The Total Talent Solution empowers employers to easily post jobs and engage with applicants throughout the hiring process. Job seekers build rich media profiles that showcase their industry experience and personality.
Harri has over 210,000 members and 3,500 employers based in New York City, Los Angeles, London, Chicago, Las Vegas, and Washington DC. It is the number one marketplace for hospitality talent in NYC.
For more information, visit https://www.harri.com/NRA.