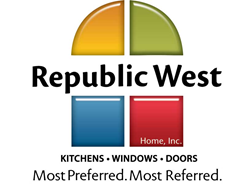 (PRWEB) May 19, 2016
Homeowners looking to install new energy efficient windows in their home can now take advantage of Republic West Home's current 25% off deal with 12 months of no interest.
The deal is being offered by the company for a limited time only and is part of a bigger deal which also offers 25% off doors with 12 months of no interest. The deal cannot be combined with other offers and pricing is determined after an in-home consultation with a Republic West Home sales representative.
Republic West Home's low-e windows offer homeowners an affordable way to increase their home's energy efficiency and lower monthly energy costs for years to come. Window features include reduced heat transmission, noise reduction and better insulation for those looking to save big on energy bills in the years to come.
Now that the weather is warming up in Arizona, many homeowners are looking for ways to help keep their homes cool during the summer and energy efficient windows are an excellent way to get started on the path to a more cost effective and energy efficient home.
Republic West Home is a licensed, bonded and insured contractor servicing Scottsdale and Phoenix, Arizona as well as Las Vegas and all surrounding cities. Free estimates can be obtained seven days a week by calling (480) 423-9300.
About Republic West Home:
Republic West Home is a company that stands for quality, honesty and the best value. Our vision, in an industry often lacking ethics and reliability, is to deliver the best home improvement experience possible.
To deliver the best possible experience before, during and after the completion of your project, an extensive team of professionals was put in place: employees driven to make the home improvement experience a great one for you, our customers. The formula works and the pleasant experiences we create for our customers have paid off. In an industry where repeat business averages less than 5%, Republic West Home and our 15,000+ clients generate an amazing 50% of our business from previous customers and referrals.
For additional information, please call 480-423-9300 or visit http://www.republicwesthome.com
Media contact:
Jason W. Jantzen
Phoenix Marketing Associates
http://www.PhoenixMarketingAssociates.com
602-282-0202
XXX