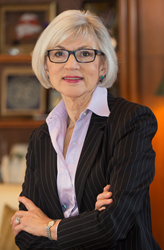 Boston, Mass. (PRWEB) May 18, 2016
The Right Honourable Beverley McLachlin, P.C., Chief Justice of Canada, will deliver the address at New England Law | Boston's 105th Commencement on Friday, May 20, 2016. She is Canada's first female and longest-serving Chief Justice and the first female Chief Justice among the 53 nations of the Commonwealth of Nations (formerly the British Commonwealth).
In addition to her duties at the Supreme Court, the Chief Justice chairs the Canadian Judicial Council, the Advisory Council of the Order of Canada, and the Board of Governors of the National Judicial Institute.
"It is a tremendous privilege to have Chief Justice McLachlin as Commencement speaker," said Dean John F. O'Brien. "New England Law | Boston was founded over a century ago as the only law school in the United States established exclusively for the education of women, and we honor and respect Chief Justice McLachlin's pioneering legal career and accomplishments."
This is the second Chief Justice that New England Law will host this semester. Chief Justice of the United States John G. Roberts, Jr., was guest of honor at New England Law's Law Day celebration in February.
Chief Justice McLachlin was called to the Alberta Bar in 1969 and to the British Columbia Bar in 1971, and she practiced law in Alberta and British Columbia. Starting in 1974, she taught for seven years in the Faculty of Law at the University of British Columbia as a tenured associate professor.
Her judicial career began in 1981 when she was appointed to the Vancouver County Court. Later that year, she was appointed to the Supreme Court of British Columbia. She was elevated to the British Columbia Court of Appeal in 1985 and appointed Chief Justice of the Supreme Court of British Columbia in 1988. The following year, she was sworn in as a justice of the Supreme Court of Canada. In 2000, she was appointed Chief Justice of Canada.
The Chief Justice is the author of numerous articles and publications. She was educated at the University of Alberta, where she received a B.A. and an M.A. in philosophy and an LL.B.
Chief Justice McLachlin will receive an honorary doctor of laws degree. Honorary degrees will also be awarded to Jacqueline Budd, president of the board of directors, Dress for Success Boston (doctor of humanities); Roberta L. "Bobbi" Gibb '77, the first woman to run the Boston Marathon and the 2016 Boston Marathon grand marshal (doctor of laws); Hon. Stephen F. Lynch, member of the United States House of Representatives (doctor of laws); and Rabbi Emeritus Donald M. Splansky, Ph.D., Temple Beth Am, Framingham, Mass. (doctor of humanities).
As in years past, graduates will process from the law school to the Citi Performing Arts Center, Wang Theatre. The ceremony will begin at 11 a.m. and will feature the awarding of 210 diplomas.