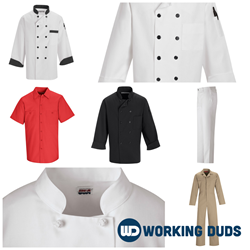 From chef coats and pants to work shirts and coveralls, we want to make sure the "every-man or woman" has access to commercial-grade apparel for affordable prices.
South San Francisco, CA (PRWEB) May 18, 2016
As the leading distribution partner of Regent Apparel, a legendary name in the world of uniform manufacturing and rental, Working Duds recently launched its new website to cater to an underserved market of uniform wearers. Whereas most distributors heavily mark up products from manufacturers or require purchases to be in bulk, Working Duds provides any individual the opportunity to purchase commercial-grade "duds" quickly, easily, at low prices, and without any minimums.
Working Duds offers unique apparel options in the following environments:
​- Restaurants: chefs, line cook, wait-staff or front of house employees

Industrial environments: construction, janitorial, food processing/service
Lab environments: healthcare and pharmaceutical
"Our heritage of workwear apparel is unmatched," says Kelly Starman, president of Working Duds. "Regent Apparel was founded in 1921 to help business simplify the process of outfitting their employees. Our distribution relationship with Regent Apparel allows Working Duds to provide great apparel products from a trusted brand to individual workers everywhere."
The website offers a variety of industry-leading products such as:

Cook Shirts
Coveralls
Kitchen Basics
Lap & Lapel Coats
Meat Frocks & Wraps
Work Shirts
For more information about Working Duds, please visit workingduds.com