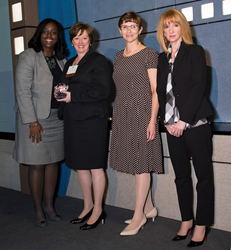 DOYLESTOWN, PA (PRWEB) May 18, 2016
Penn Community Bank is proud to announce that President and CEO Jeane M. Coyle has been named a 2016 Woman of Influence by Lehigh Valley Business. The awards were presented on May 11 at a ceremony and luncheon held at Cedar Crest College, in Allentown, Pennsylvania.
Coyle, a native of Allentown, was among 28 women honored by the Lehigh Valley business news publication. Honorees were selected by an independent panel of judges based on experience, integrity, leadership and accomplishments.
About 400 people attended the awards ceremony, held in Lees Hall on the Cedar Crest campus. The 2016 awards program is the fourth annual celebration of women leaders in the greater Lehigh Valley region.
With a career in banking that spans nearly 30 years, Coyle has worked at financial institutions of all sizes throughout eastern Pennsylvania. She takes an active leadership role in the financial industry, appearing on panels such as the 2016 Women in Banking Conference sponsored by the Pennsylvania Bankers Association.
Coyle also dedicates her time to several community organizations that support self-sufficiency and financial literacy initiatives. She serves on the board of the Bucks County Opportunity Council and is vice-chair, community impact on the executive committee of the United Way of Bucks County's board of directors, where she also serves on the governance and personnel committees. Under Coyle's leadership, Penn Community Bank also supports Habitat for Humanity of Bucks County, donating land in Croydon and helping to sponsor the construction of the group's 101st affordable home project in Bucks County.
Photo caption: Jeane Coyle (second from left), President and CEO of Penn Community Bank, accepts her 2016 Lehigh Valley Business Woman of Influence award from Carmen Twillie Ambar, President of Cedar Crest College, Amy Nyberg, Chief Integration Officer of Coordinated Health, and Melinda Beck, Director of Client Management at Highmark.
About Penn Community Bank: Created in 2015 by the unification of long-standing community banks First Federal of Bucks County and First Savings Bank of Perkasie, Penn Community Bank holds more than $1.8 billion in assets and employs more than 300 people at 22 bank branches and two administrative centers throughout Bucks County. As an independent, mutual financial institution, Penn Community Bank is not publicly traded and operates with its long-term mission in mind: to help businesses grow and prosper, to support individuals and families throughout their lifetimes, to strengthen the local economy, and to partner with local organizations to act as a catalyst for positive growth in every market it serves.