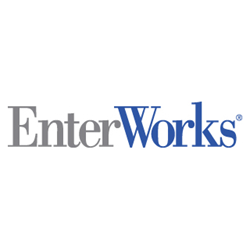 Sterling, VA (PRWEB) May 18, 2016
EnterWorks, the leading software provider for Master Data Management (MDM) and Product Information Management (PIM) solutions, has announced the release of its next-generation platform, EnterWorks Enable 8.2.
In addition to enhanced ease-of-use for business and technical users, the advancements to the platform allow 40 percent faster download of complex data sets in excess of 10 million rows. The turnkey solution is cloud ready and can be deployed in less than one hour.
Additional new features include:
● A fully upgraded technology stack that is certified on Java 8
● Enhanced REST web-service APIs
● Cloud-ready, advanced data profiling and channel readiness capabilities that enable end users to more quickly and easily identify and correct channel-specific data issues
● User experience improvements such as the ability to intuitively manage language translations and localization not offered by any other MDM/PIM solutions
The Enable 8.2 solution is a multi-tenant application for use as a vendor portal, dealer portal and multi-enterprise data hub. Enable 8.2 also includes an advanced matching capability that allows for more accurate automated product classifications and the ability to automate the combinatorial "explosion" of SKUs based on variants and options; or, in reverse, group SKUs and automate the reduction of variants and options to the group or family level.
"EnterWorks continues to innovate and bring to market features that are redefining the MDM/PIM landscape. This innovation is a result of the flexibility of our dynamic, responsive architecture and the capital and resources provided by our investor, Black Dragon Capital," said EnterWorks COO, Kerry Young. "These ongoing advancements enable us to serve the largest, most complex customers while having the light touch necessary for mid-market and small businesses. Our platform can reduce the total cost of ownership compared to competing solutions while being best-in-class for our customers' ability to master, manage and govern a single view of product content delivered through omnichannel touchpoints.
Enable 8.2 has received certification for successfully proving the "Data Source" and "Data Recipient" capabilities for GS1 GDSN® Major Release 3 (MjR3). EnterWorks Enable 8.2 will be available for general release in July 2016.
"The new Java 8 based infrastructure allows Enable to fully exploit the performance and scalability of distributed cloud computing and offers a broad set of support options to help our customers maximize success, which include backup and recovery, auto-scaling and SAML2 security for worldwide distributed deployments," said John Jones, Vice President of Product at EnterWorks. "We're excited to share this improved, next generation of the platform with our customers."
About EnterWorks ( http://www.enterworks.com )
EnterWorks® master data management (MDM) and product information management (PIM) solution enables companies to acquire, manage and transform product information into persuasive content that drives higher sales and new competitive strengths. By leveraging a company's products, associated images and videos, brands and other marketing assets, EnterWorks Enable platform delivers powerful content through e-commerce Web, mobile, print and various electronic channels. EnterWorks is highly ranked by Gartner (recognized as an industry leader in centralizing product content for manufacturers and retailers alike in Gartner's Critical Capabilities Report from December 2015), Forrester and Ventana Research.
EnterWorks Enable acquires information from multiple sources, manages the information in a central repository powered by automated workflow, and syndicates the information to multiple applications, media, and participants. Enable assures customers that all their product information is accurate and up-to-date, and lets them publish and share it with consumers, partners and staff. EnterWorks Enable can be deployed in a cloud environment or on premise. Customers span various industries including consumer goods, office products, equipment, fashion, hospitality, QSR, medical, technology and services. Food and CPG customers include Abbott Nutrition, US Foods, Fender Musical Instruments, Mary Kay, and Guthy-Renker, and a major restaurant group.
EnterWorks is wholly owned by Black Dragon Capital.
About Black Dragon Capital ( http://www.blackdragoncap.com )
Black Dragon Capital is a growth-oriented private equity fund focused on technology investment opportunities in ecommerce, financial services, and sports and media. Its founder and advisor Louis Hernandez, Jr. and team of industry professionals have significant operational experience, strong financial backgrounds, proven track records of success and investment experience ranging from startups to billion dollar organizations in both public and private vehicles. BDC offers a strategic difference with its real operating advice, C-level executives as partners and substantial experience in all phases of growth, as well as, significant international domain expertise.