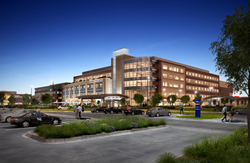 Huntley, Ill. (PRWEB) May 19, 2016
Centegra Health System will partner with Ann & Robert H. Lurie Children's Hospital of Chicago to provide 24-hour pediatric hospitalist coverage at Centegra Hospital-Huntley. Beginning when Centegra Hospital-Huntley opens, board-certified pediatricians will be in the hospital 24/7 to care for inpatients, coordinate patient care with each child's primary care physician and be available to assist with pediatric emergencies in the Centegra Hospital-Huntley emergency room.
"Children should have access to the best pediatric care without having to leave their community," said Michael S. Eesley, chief executive officer of Centegra Health System. "Our partnership with Lurie Children's brings expert care to Centegra Hospital-Huntley so children and families can get the care they need close to home."
"We look forward to having a major pediatric presence within Centegra Health System, and in McHenry and Kane counties," said Patrick M. Magoon, President and CEO of Lurie Children's. "We are able to advance care by having our hospitalists – who are skilled, board-certified physicians – staff their pediatric programs in a most convenient and cost-effective setting."
Hospitalist medicine has evolved as a specialty in today's health care environment because most patients are sicker when they are in the hospital. They require higher levels of on-site physician presence to guide and monitor around-the-clock treatment plans while coordinating care with family physicians, pediatricians and nursing staff.
"Centegra understands that children have different medical needs than adults," said Dr. Laura Bianconi, medical director of pediatrics with Centegra Physician Care. "We are treating whole families when a child is sick, not just pediatric disease, and this association with one of the nation's top children's hospitals elevates our ability to care for our youngest patients."
In addition to inpatient services, Lurie Children's and Centegra will immediately begin to collaborate to provide a higher level of cardiology and concussion care. Beginning this fall, Lurie Children's cardiologists will see patients at Centegra Health Center-Huntley, which will provide children access to a higher level of care right in their community.
Cardiologists from Lurie Children's also now read all pediatric electrocardiograms and echocardiograms performed at Centegra. In addition, when Centegra Health System providers diagnose a child with a concussion, those children will be referred to Lurie Children's Concussion Program at the Institute for Sports Medicine. The Concussion Program supports a child throughout recovery and provides guidance so he or she can have a smooth and appropriate transition back to academic and athletic activities.
"Centegra understands that children aren't just small adults and that they are still growing," Eesley said. "We want our youngest patients to have streamlined access to medical specialists when our own pediatric experts believe they would benefit from additional care. By partnering with Lurie Children's, our patients have access to the best inpatient and specialist care."
For decades, Lurie Children's has formed partnerships with community hospitals and outreach locations to provide greater access to pediatric care throughout the Chicago area. Lurie Children's is one of the top children's hospitals in the country according to U.S. News & World Report. It is the pediatric training ground for Northwestern University Feinberg School of Medicine and one of only a handful of children's hospitals with a dedicated pediatric research center, the Stanley Manne Children's Research Institute. Last year, Lurie Children's cared for more than 174,000 children.
Centegra Health System is committed to meeting the health care needs of the residents of greater McHenry County and to making services available in multiple and convenient locations, including hospitals in McHenry and Woodstock, Immediate and Physician Care Centers, Centegra Sage Cancer Center, Health Bridge Fitness Centers and the highly anticipated Centegra Hospital-Huntley.
As the region's leading health care provider, Centegra Health System continues to bring the latest treatments and technology, along with the skills of nearly 4,000 associates, to meet the needs of the growing McHenry County community. For more information about Centegra Health System visit centegra.org, search Centegra Health System on Facebook and Twitter or call 877-CENTEGRA (877-236-8347).
CONTACTS: Julie Pesch, Director, Public Affairs and Communications
Ann & Robert H. Lurie Children's Hospital of Chicago, 312-227-4261
Michelle Green, Manager, Public Relations & Communications
Centegra Health System, 815-788-5865